Best Canned Beers for Summer
A bottle-hating New York bartender suggests his top summer six-pack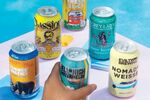 Nate Adler, beverage director at Manhattan's Huertas, pairs canned beers with conservas—canned Spanish snacks. Cans chill better than bottles and block light, which can harm taste.
1. Anderson Valley Summer Solstice Seasonal Ale
Like cream soda for adults. If that doesn't sound delicious, this sustainable brewery in Boonville, Calif., churns out more than a dozen other options, all worth seeking out.
2. Stillwater Classique Postmodern Ale
Marketed as "your grandfather's new beer," this ale, brewed with corn, rice, and pilsner malt, is reminiscent of a classic American lager. It tastes sort of like Budweiser but with more complexity and enough bite to compete with spicy foods.
3. Otter Creek Fresh Slice White IPA
This hybrid combines the light body and spice of a Belgian witbier with the hoppiness of a traditional India pale ale. Throw an orange slice on top,put a whole fish on the grill, then drink up.
4. Cisco Brewers Grey Lady
A wheat beer made with fresh fruit and spices, brewed on an island off the Massachusetts coast known for its fishing. A great drink to bring to the beach, and also fantastic for a clam or lobster bake.
5. 21st Amendment Hell or High Watermelon
Fruit beers aren't typically great, but this one, brewed with fresh watermelon juice, nails it. And it's even better in a can than on draft. Ice it until very cold, then wash down hamburgers, hot dogs, or smoky barbecue.
6. EvilTwin Brewing Nomader Weisse
Sour ales are having a resurgence. This one, in the old German style of a Berlinerweiss, is among the best. At less than 5 percent alcohol by volume, it tastes like cider, making it perfect for a hot afternoon and some raw or cured seafood.
Trouble finding one? Visit a Whole Foods Market, search for craft beer stores in your area, or contact the brewer directly.
Before it's here, it's on the Bloomberg Terminal.
LEARN MORE