Andrew Zobler, Line Hotel's Boutique Warrior
With his new Los Angeles hotel, the Line, Andrew Zobler aims to crush the cutesy, hip, and quirky competition
Zak Stone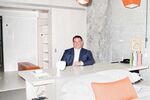 "If it's disturbing, it's supposed to be," Andrew Zobler says as he rides an elevator at the Line, his Los Angeles hotel. The interior is wood but has been painted to look like cartoon animal fur. "The shock of the elevator emphasizes the sedateness of the rooms," he explains. The brutal concrete building, which rises 12 stories over an unremarkable block of Wilshire Boulevard in Koreatown, is intended to have a similar effect. From high floors, you can see colorful Mexican grocery stores below and the Hollywood sign to the north. "The artwork here is the views," says Zobler. "I love the opportunity to create value where other people don't see it."
On this July afternoon, the Line feels like a sleepaway camp for adults. Attendants serve comfort food to sunbathers on the poolside deck, where food-truck pioneer Roy Choi hangs out on a cushion. His restaurant downstairs, Pot, serves Korean, and he also runs Commissary, a vegetable-focused cafe in the pool area. Soon, guests will be able to drink at Speek, a speakeasy in the basement. Already they can shop at Poketo, an outpost of a local design store. The hotel's rooms, which start at $240, feature king-size beds, king-size windows, and tiny chairs upholstered with Southwestern blankets.
Boutique hotels such as the Line have existed since the 1980s, when Ian Schrager's Morgans Hotel Group introduced its "urban resorts" at the Delano in Miami and Mondrian in West Hollywood. Larger brands such as Starwood's W and Kimpton found success in the past decade by offering corporate loyalty programs along with rooftop nightclubs, trendy menus, and minibars full of gummi bears. The segment bounced back from the recession more quickly than the mainstream competition, according to hospitality researcher IbisWorld, which predicts that boutique hotel growth will increase 6.9 percent annually through 2019. Much of that will likely be driven by a third wave of brands, including Seattle's Ace, Los Angeles's Standard, Chicago's James, and Schrager's new national line of Public hotels, the first of which opened in Chicago last year.

At 388 rooms, the Line is larger than most of these competitors, and Zobler projects $30 million in revenue its first year, with a 10 percent return on the capital he and his partners invested by year three. If that sounds optimistic, Zobler, a 55-year-old wearing boot-cut jeans and a ridiculously oversize watch, is quick to point out his bona fides. In 2000 he left his career as a real estate lawyer to work as Starwood's vice president of acquisitions. Next he took a similar role working for André Balazs at the Standard. He thought Balazs was a "genius" when it came to branding and design but wasn't convinced the hotel's glitz-and-expensive-art approach was the most profitable business model. "André was not what I would call a gifted developer," Zobler says. "There had to be a better way to be more responsible to capital but still be able to deliver a product that was really compelling."
So in 2006, Zobler started the Sydell Group, a development firm that hunted down underutilized property, then leased it to hip hotel companies, restaurants, and retailers that could increase the building's worth. (Most of the backing for Sydell comes from billionaire investor Ron Burkle.)
For his first big project, Zobler partnered with Allen Gross of New York real estate firm GFI to acquire and develop the former Breslin Hotel, on a rundown corner at 29th and Broadway in Manhattan. The turn-of-the-century building had become "a flophouse," according to Gross, full of rent-regulated tenants who shared communal bathrooms. "We had to go look for an operator who could put bathrooms in hallways," Gross says. "You can't exactly go to Marriott with that proposal." Instead, they recruited Ace Hotel, a nascent West Coast brand with properties in Seattle and Portland, Ore., that appealed to a younger, cooler clientele.
"We put them on the map," Zobler says of the Ace, perhaps overstating his involvement in the project. In Zobler's telling, Gross helped obtain equity for the $40 million lease while Zobler worked closely with Ace founder Alex Calderwood to execute the hotel's vision. (Calderwood passed away last November.) "There's no question that basically for five years I was the one that ran every meeting," Zobler says. It's hard to find anyone else involved who agrees with that version: "He's a diabolically bright business guy," says Ken Friedman, who runs two restaurants with chef April Bloomfield in the Ace. "But he wants to leave the negotiating table with the other guy going, 'I got screwed.' "
Zobler and the Ace group split up shortly after the hotel opened, and he became obsessed with finding his own competing project. In 2009, Sydell bought a building one block south of the Ace and built the NoMad, taking the moniker for the neighborhood, North Madison Park. The NoMad is more luxurious than the Ace, with $525 rooms, an on-site Parisian boutique, and a New York Times' three-star restaurant. "He takes good people and lets them do their thing," says Will Guidara, co-owner of Eleven Madison Park, whom Zobler tapped to run the NoMad restaurant. "There's a lot of developers who think you just need to fit in the mold they've created."
The NoMad was successful—it did about $20 million in just food and beverage in 2013—so Zobler went into expansion mode. In 2012 he opened the lower-end Freehand, a stylish Miami hostel where four-person bunk-bed rooms go for $100 per night. He also built two Saguaro desert inns—in Scottsdale, Ariz., and Palm Springs, Calif.—by teaming up with a resort chain. He's planning to expand the Freehand to 10 other cities, starting with one in downtown L.A. "The Line was an outcome from this piece of real estate," he says. "We bought this building for $35 million out of bankruptcy, which was less than $100,000 a key." After the full renovation the per-room price doubled to $200,000, which Zobler says is still half the cost of L.A.'s other designer hotels.

Zobler differentiates himself as a developer by specializing in one-offs, each with its own pricing structure and design strategy. The NoMad, for instance, is romantic, with velvet in the lobby and claw-foot bathtubs in the rooms. The Line is mostly white with Asian-inspired accents. Zobler didn't originally plan to open a hotel in Koreatown, but now that he's there, he's making the most of it. "Five years ago you never really heard anything about Korean culture, and all of a sudden it's everywhere," he explains. Choi, who grew up nearby, agreed to run the hotel's two restaurants in exchange for a financial stake in the project and a share of its profits. Before the hotel opened, Zobler accompanied Choi on an idea-generating trip to Seoul. Zobler "was game to go to every alley and eat anything," Choi says.
Zobler has a sizable ego but isn't comfortable being the face of his brand. He leaves that to Choi. "Rather than have a picture of me, it's more interesting to have him front and center," Zobler says. He can't help but add: "Even if it makes it look like Roy had a lot more to do with the design and the vibe."
On a summer evening at the Line, locals and tourists queue up to eat guava cheesecake and Cubano sandwiches at an event to promote Chef, a movie about a food truck directed by and starring Jon Favreau. Despite the actor's recognizable face behind the DJ booth, fans spent more time swarming Choi for pictures. Zobler hovers in the background, satisfied to watch the crowd.
Before it's here, it's on the Bloomberg Terminal.
LEARN MORE