Who's Got the Best Retirement Plan?
Some companies will put in money even if employees don't
By and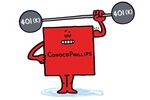 When Daniel Baker joined ConocoPhillips after graduating from Oklahoma State University, he had a child and was struggling to cover his family's living expenses. Yet by saving just 1 percent of his salary to qualify for the company's 9 percent match, he started accumulating a hefty 401(k) balance. Now, after 13 years with the company, Baker, 35, is feeling confident about his eventual retirement. "My wife and I have peace of mind," he says. "We're well on our way."
ConocoPhillips tops Bloomberg's rankings of the best 401(k) plans among the 250 largest companies in the U.S., largely because of its generous matching formula. And it's one of about 90 companies that put money into employees' accounts even if the workers themselves don't. Facebook, Whole Foods Market, and Amazon.com are among the least generous companies in the rankings, which are based on 2012 data, the most recent year for which sufficient information on the companies was available. Whole Foods offers a maximum company contribution of $152 a year.
The rankings compare plans on seven factors, including company match, investment options, and the time it takes to vest. More than 40 percent of companies let workers vest immediately, allowing them to take company contributions with them if they leave. Home Depot and Amazon make employees wait three years, Oracle four. "Some companies have the philosophy that it's their job to take care of employees," says Mike Alfred, chief executive officer of BrightScope, which evaluates retirement plans. "Others are sheer profit machines who will do only what they have to to be competitive."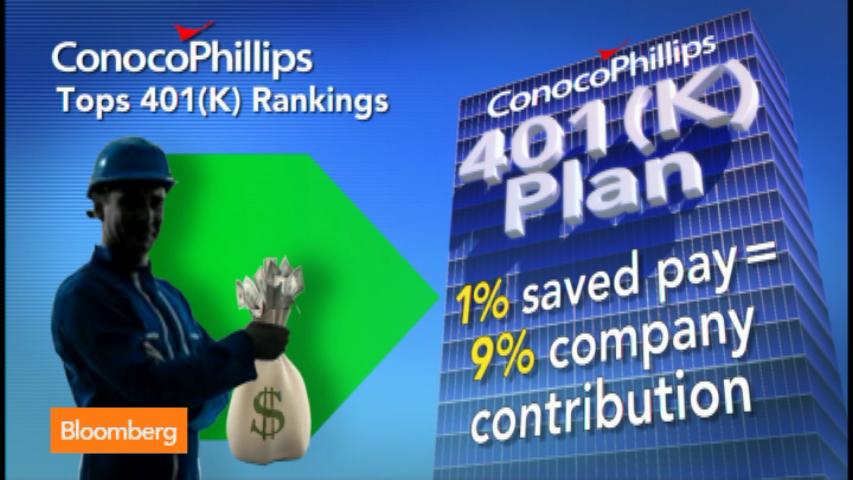 The differences in plans can add up to hundreds of thousands of dollars over the course of a career. Take the case of an employee with a starting salary of $50,000 at age 25, who was granted annual pay increases of 3 percent, reaching a final salary of $163,102 at age 65, and assume that he made the average annual contribution for his age group and that the portfolio generated an annual return of 5 percent. Under those conditions, the individual would have $1.6 million at age 65 if he worked at ConocoPhillips, according to Jack VanDerhei, research director of the Employee Benefit Research Institute. And that doesn't include the company's additional contributions of 6 percent to 9 percent a year. The same person would have ended up with less than half in his 401(k), or $730,340, if he worked at Whole Foods. (The figures are not adjusted for inflation.)
Created by federal legislation in 1978 as a supplement to traditional pensions, 401(k)s have supplanted pensions as corporate America's primary retirement vehicle. Participants increased to 61 million in 2011, from 7.5 million in 1984, according to Department of Labor data. Americans held $4.3 trillion in 401(k) plans as of March 31, according to the Investment Company Institute.
Even as 401(k)s mushroomed, companies carefully guarded the details of their plans, making comparisons difficult. Not until 2010 did the Department of Labor begin to post information companies were required to provide about their 401(k) plans. Yet the details were so difficult to gain access to and understand that few employees could decipher them.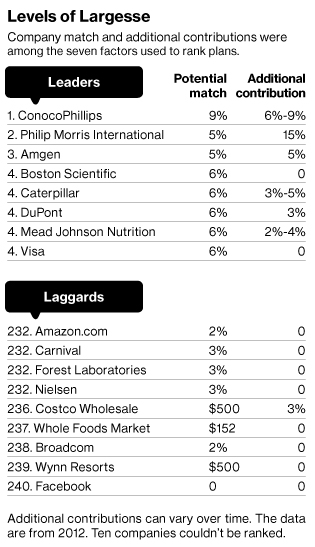 Efforts to make plans more transparent are vital, according to Massachusetts Secretary of the Commonwealth William Galvin. "It's very hard to do a comparison of your plan vs. other plans, and employees are also in the dark about how much they're getting and any changes to the plan," he says. "No one ever envisioned when 401(k)s started that people would become so dependent on them for retirement, and regulation hasn't kept pace."
Energy companies generally scored high in the Bloomberg rankings. They can afford to be generous, since they tend to have strong cash flows and high profits per employee. Many also used to offer pensions to all employees and have continued the tradition of funding the bulk of savings needed for a secure retirement even as they switched to 401(k)s. "Our goal is to help employees replace at least 80 percent of their incomes in retirement by providing two-thirds of what they need while they save one-third," says Lynn Tramel, a benefits manager at ConocoPhillips, where about 9,700 employees are enrolled in the 401(k) program. "It's a partnership."
Some biotechnology and medical companies also did well. They rely on highly educated employees, many of whom have Ph.D.s or M.D.s., and substantial retirement plans serve as powerful recruitment and retention tools. At Abbott Laboratories, which made Bloomberg's top 10, employees who save just 2 percent of their annual salaries get a 5 percent match from the company. "We want to give incentives to young employees without a lot of discretionary income," says Stephen Fussell, executive vice president for human resources at Abbott.
Near the bottom are retail companies, including Whole Foods, Home Depot, and Costco. Retailers say they consider a broad range of benefits and costs and give special consideration to rising health-care expenses. Whole Foods automatically enrolls employees in its 401(k) plan, but the company doesn't pay its $152 match until the following year. "In addition to our 401(k) plan, we offer benefits that our more than 80,000 team members have the opportunity to actually vote on, including paying only $0 to $15 per paycheck for health insurance premiums, and a broad-based stock plan," says Mark Ehrnstein, global vice president for team member services at Whole Foods.
Home Depot employees must wait three years to be vested. The company also doesn't match their contributions until they have worked there for a year. Then it puts in a maximum of 3.5 percent if employees save 5 percent of their salaries or more. "Our view is, if you hold up your end, we'll hold up ours," says Brant Suddath, Home Depot's director of benefits.

While Google and Apple ranked in the top half, other tech giants such as Facebook, Amazon, Oracle, and Yahoo! lagged. One reason technology companies scrimp on 401(k) plans is that some highly skilled employees share in stock ownership. Until this year, Facebook didn't offer any match in its plan, which started in 2006. This April it started matching 50¢ on the dollar, up to a maximum company contribution of 3.5 percent of salaries, for employees who save 7 percent of their pay. "Although Facebook is a young company, we take a comprehensive approach to the benefits we offer all our people, which include a robust 401(k) match as well as other retirement benefits," said Renee Whitney, Facebook's benefits manager, in an e-mail.
Amazon matches 2 percent of employees' incomes if they contribute 4 percent. Yahoo provides one-fourth of workers' contributions, up to $4,375 for those who save $17,500, the most currently allowed under government rules. (Workers aged 50 or older can contribute another $5,500 annually.) At Oracle, employees aren't fully vested for four years. Amazon, Yahoo, and Oracle declined to comment.
ConocoPhillips estimates that an employee could retire at 60 after 35 years of service with savings of $3.8 million, adjusted for inflation, assuming a starting salary of $75,000 and salary increases of 4 percent a year. While he declines to disclose his balance, Baker, now a senior analyst in the company's treasury department, says he has increased his contributions as his income has risen. "Now I tell interns, don't just think about salary," he says. "Think about the benefits you'll get."
Before it's here, it's on the Bloomberg Terminal.
LEARN MORE