Palladium Gain Sets Up Platinum Switch in Cars: Chart of the Day
Nicholas Larkin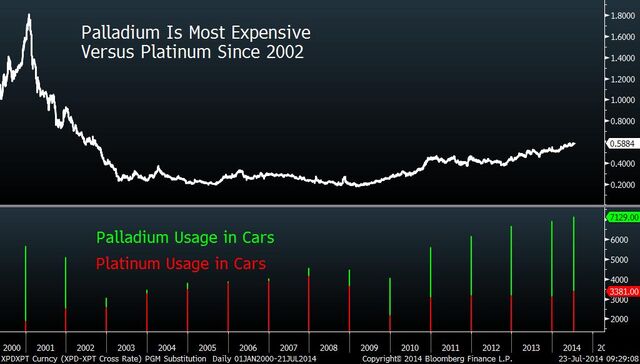 Palladium demand is poised to drop as the metal's highest price to platinum in almost 12 years cuts use from carmakers, according to SP Angel Corporate Finance LLP.
The CHART OF THE DAY shows an ounce of palladium bought 0.59 ounces of platinum last week, the highest ratio since September 2002. Auto companies, the biggest buyers, cut consumption of palladium by 40 percent in 2002 after prices climbed to a record in 2001 and used more platinum, according to Johnson Matthey Plc. Both metals are used in catalytic converters to curb harmful emissions.
"There will come a point where if palladium prices move up much closer to platinum prices then car companies might move to using a bit more platinum again, rather than palladium," John Meyer, an analyst at SP Angel in London, said July 21. "Price changes will have a shorter-term impact on purchasing, as in companies and traders maintaining stock levels. It does take a while for fundamental consumption to change."
Palladium reached a 13-year high this month and its 22 percent advance this year has beaten the 8.1 percent gain for platinum. Both metals are set for a third straight annual supply shortage as demand from automakers increased and after output was cut by a five-month mine strike in South Africa that ended in June. Palladium is mostly used in gasoline vehicles, while platinum is favored for diesel types.
U.S.- and European-imposed sanctions on Russian firms and businesspeople to pressure the country to halt interference in Ukraine has added to concern that palladium supplies will be restricted from top producer Russia. South Africa is the biggest platinum miner, ranking second for palladium.
Palladium is trading about 22 percent below its 2001 record of $1,125 an ounce, while platinum is about 36 percent from its all-time high of $2,300 an ounce set in 2008.
Before it's here, it's on the Bloomberg Terminal.
LEARN MORE