Xiaomi Unveils a Fresh Chapter in Its Plan to Conquer the World
The Mi4 looks like Apple's cash cow at less than half the price
By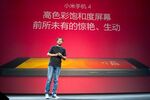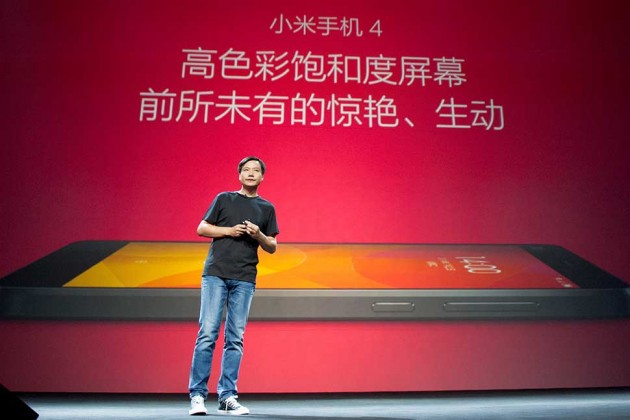 Chinese smartphone upstart Xiaomi is turning the release of high-end, low-priced gadgets into a ritual. At a press conference on Tuesday in Beijing, Xiaomi Chief Executive Officer Lei Jun unveiled the Mi4, a metal-backed iPhone-esque smartphone with a 5-inch display, the latest Qualcomm Snapdragon chip, and a $320 price tag that puts it far closer to the reach of China's middle class than the iPhone 5S, which sells in that country for close to $700.
"Our product really is better than the iPhone," bragged Lei, who was back to wearing the Steve Jobs uniform of jeans and black shirt following a detour into khakis at a press event earlier this year. "Even our white color is whiter!"
The company, founded only four years ago, hopes to sell 60 million handsets this year, up from 18 million last year. Next year's target, according to Bloomberg News, is 100 million phones. In the first quarter of this year, Xiaomi was the third-largest smartphone vendor in China and sixth-largest globally, according to research firm Canalys.
Bloomberg Businessweek visited Xiaomi earlier this year and found a team of all-star Chinese technologists who had banded together under Lei with the dream of creating a new smartphone powerhouse. Xiaomi's innovation, we wrote, is its business model: The company sells online—rarely in stores—and spends very little on advertising. It sinks the savings into top-notch components while keeping prices down.


Moreover, the "release" of a device such as the Mi4 can be somewhat deceiving. The new smartphone will probably go on sale in small increments and sell out quickly. In fact, the Mi3, introduced in September 2013, is typically sold-out and difficult to buy in China and markets like Singapore and Taiwan. Recently, the company made only 3,000 Mi3s available in the Philippines. In India, it teamed with local e-commerce site Flipkart and sold out a batch within 30 minutes.
The scarcity strategy not only boosts the desirability of the Xiaomi brand in the eyes of many consumers; it allows the company to avoid keeping pricey, unsold inventory in warehouses. Those savings help fund its expansion into new product categories and international markets. Xiaomi currently sells in China and such Asian countries as Taiwan, Singapore, and the Philippines. It wants to expand to 10 additional countries this year, including Mexico and India, though its entrance into Brazil and Indonesia has been slowed by regulatory hurdles.
The Mi4 isn't the only device Xiaomi unveiled on Tuesday. Lei Jun also introduced the Mi Band, a wearable device that comes in five colors and includes various fitness tracking features, an alarm clock, and the ability to unlock the user's Mi phone without a password. It costs only $13—compared to $99 for the Fitbit in the U.S.—though Xiaomi neglected to announce when its fitness tracker might go on sale in China, or elsewhere.
A truly global roll-out of all Xiaomi's products—the slick, cheap smartphones, connected TVs, home media servers, and so forth—probably isn't far out. As Lei Jun told us earlier this year, his goal is basically world domination. "The creative economy [in China] continues to rise, entrepreneurship is surging, and our innovation abilities are growing," he wrote in an e-mail to Bloomberg Businessweek. "We're the world's largest consumer market. After several decades of effort, this is the trend. Chinese technology companies are coming to the rest of the world."
Before it's here, it's on the Bloomberg Terminal.
LEARN MORE