How Bill Ackman Misfired With His Herbalife Lecture
by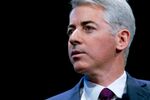 Did Bill Ackman just deal a deathblow to Herbalife, or pay $50 million to prove that a sucker is born every minute? In a presentation on Tuesday that he dubbed "the most important of his career," the hedge fund manager lobbed a fresh round of missiles at the company he has bet $1 billion against. His main target: the shake maker's lucrative "Club 100″ training program, which Ackman described as a Bernie Madoff-style scheme that dupes participants with false hopes, misleading claims, and high costs. For added measure he threw in references to the Nazis, Enron, the mafia, drug cartels, and assorted celebrities like David Beckham and Madeleine Albright. He also called Herbalife Chief Executive Michael Johnson a criminal more than once.
And yet Ackman's latest attack seems to have missed the mark. By the end of his three-and-a-half-hour presentation, Herbalife's stock was up 16 percent—more than recovering its 11 percent drop a day earlier, when he'd promised revelations that would make the company collapse. Instead, Ackman and his team described tactics that sounded a little sleazy, too familiar, and hardly unique to Herbalife. Rather than reinforcing his premise that Herbalife is a pyramid scheme, he may have raised the bar higher in proving his case. Here's what Ackman didn't do:
Start off with a bang. If you go around the media circuit promising to deliver a deathblow, it's best to come out swinging. Instead, Ackman calmly delved into the details of Herbalife's business model with the kind of enthusiasm you would expect from a middle school presentation on cats. It felt familiar, too reliant on recycled claims, and mired in the weeds. The audience had rearranged their schedules to get a glimpse of some new evil in their midst, only to get a lecture about how Herbalife's nutrition clubs sucker people into buying shakes for themselves. Ouch. The comment feed alone was a litany of virtual yawns and shrugs, which may be why it was disabled.
Give much credit to the poor. Bill Ackman cares about the poor. He and his wife, Karen, are among the most generous donors in the country, whether it's educating underprivileged kids or supporting African entrepreneurship. When it comes to Herbalife users, though, Ackman's rhetoric smacks of noblesse oblige. To him this is about unsophisticated and uneducated bottom-of-the-pyramid victims who don't understand the concept of "sunk cost" and can't figure out when they're being sold a bill of goods. And they're probably illegal immigrants, too, according to his colleague Christine Richard, which means they're too scared to speak up. Never mind the millions of Americans at all income levels who get suckered into paying for stupid diet plans, dubious nutrition products, get-rich-quick schemes, or lousy education programs every year. They should know better. Herbalife? Those poor people are being robbed.
Deliver a body blow. Nothing in Ackman's presentation sparked a moment of outrage for me. Maybe that's because of my prior history of hawking Yule Logs in our Jewish neighborhood at Junior Achievement, buying Girl Guide cookies from a boss, eating through cases of chocolate bars I couldn't sell, or watching my parents unfriend a couple that kept showing up with Amway products in tow. Squeezing family and friends for unwanted purchases, donations, or help is a deep and rich tradition that spans many products and ethnic groups in this country. In emerging markets, multilevel marketing is often cast as a way to spur entrepreneurship and a consumer class.
Win friends and influence people. Hugs notwithstanding, nobody expects Bill Ackman to praise Carl Icahn when the man has bet against him by investing millions in Herbalife shares. Ditto for Daniel Loeb, who did the same, and David Einhorn, who cashed out. But telling auditor PricewaterhouseCoopers that it should be ashamed of itself? Implying regulators are too dense to spot a criminal enterprise in their midst? Suggesting former Secretary of State Madeleine Albright will shill for anyone for a buck and doesn't bother to check out who's asking? Accusing "the media" of not doing their job because they've not sent teams to investigate Herbalife, like he has, while telling the audience our goal is just to move the stock? (No, Bill. That would be you.) This is war, after all, and Ackman is fighting an enemy that's equipped itself with a daunting constellation of PR teams, legal counsel, consultants, and pitchmen. But what's to be gained from alienating such a vast swath of characters isn't clear.
Understand Herbalife's appeal. Most people don't sign up to distribute Herbalife because they're looking for a career or hope to make minimum wage. Maybe they believe the products will help them lose weight or get healthy. More likely they want to make money—and most of them don't. A lot of people would have guessed as much even before Ackman launched his campaign against Herbalife in December 2012. In the same way that fortifying sugar cereal doesn't make it healthy, and a sexy model doesn't make a car cool, the idea that you can get rich selling shakes to your pals doesn't resonate. Maybe you'll have fun hanging out with your friends or love getting three hours of free babysitting with the purchase of a shake. But many probably drop out. They might feel stupid at having spent too much for too little, or warn others that it's a rip-off.
Does that make it "the best-managed pyramid scheme in the history of the world"? Is it a "massive fraud" with a "criminal" at the helm? Ackman continues to think so. But with so much hype on both sides, it's easy to see why investors can't tell who's promising too much.
Before it's here, it's on the Bloomberg Terminal.
LEARN MORE