Cameron Pay Issue Back as Female Minister Refuses Fix
Robert Hutton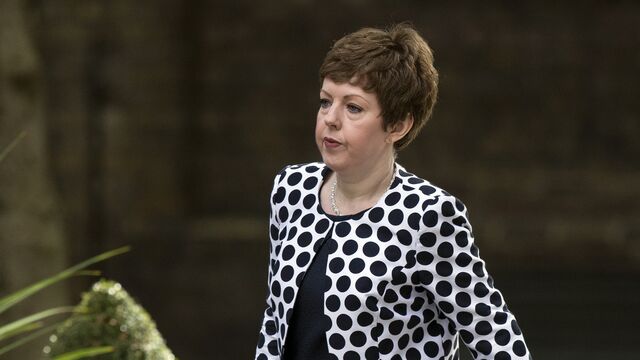 The female minister promoted by Prime Minister David Cameron for a lower salary than her male predecessor refused a pay supplement from the Conservative Party last night, saying it would be incompatible with her role.
Tina Stowell was named Leader of the House of Lords on July 15, as Cameron boosted the number of women in his Cabinet in an effort to change his party's image. Because there is a cap on the number of people receiving Cabinet salaries, and he wished to keep former Foreign Secretary William Hague on full pay, Stowell was asked to do the job for 22,147 pounds ($38,000) less than the man who did the job before her, Jonathan Hill.
Three hours after Bloomberg News reported this last week, the Conservative Party said it would make up the difference, enabling Cameron to reject taunts in Parliament, saying she would "do the same job as her predecessor" and "receive the same money." That line collapsed yesterday when Stowell said she couldn't accept the money.
"My responsibilities as Leader of the House extend beyond the Conservative benches to all parts of the chamber and to the House as a whole," Stowell wrote in a letter to fellow members of the unelected chamber. "I feel it only right therefore that my salary comes from a single source, and that source should be the public purse."
Stowell was summoned to the Lords on July 16 to defend the downgrading of the status of her role in the upper house, in a session which saw the Prime Minister's decision attacked from all sides. Lawmakers questioned how she could perform her constitutional duty of representing all members of the chamber while taking a fifth of her pay from the Conservatives.
'Purely Temporary'
In a letter yesterday to the Association of Conservative Peers, Cameron said the situation was "a purely temporary one, which I will want to rectify at the earliest opportunity." He said he would do so "immediately" after the May 2015 general election, if he wins it, "if no opportunity has arisen to do so over the coming nine months."
He said the decision to refuse Tory funds and so be paid less was Stowell's, "for reasons I completely understand."
The Fawcett Society, which campaigns for equal pay and says women in the U.K. earn 85 percent as much as men doing equivalent work, said it is "concerned" that Stowell will have lower pay and status than her male predecessor.
"The government should be leading by example," Daisy Sands, the group's head of policy and campaigns said in an e-mailed statement. "This sends the wrong message at a time when the gender pay gap for all employees widened again for the first time in five years."
Before it's here, it's on the Bloomberg Terminal.
LEARN MORE