Why the Red Sox Might Let Jon Lester Walk
By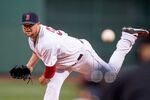 In his Sunday Baseball Notes column on the Boston Red Sox, the Boston Globe's Nick Cafardo quotes an April Bloomberg Businessweek profile I wrote of Sox owner John Henry to shed some light on a question gripping Red Sox Nation these days: Will the club pony up enough money to re-sign ace pitcher Jon Lester, who is 30 years old?
Lester has repeatedly made clear that he'd take a discount to stay in Boston, something fans and teammates would love. But signing aging players to big contracts runs counter to the philosophy that Henry laid out to me in the piece (and insisted he'd adhere to): Build teams from within by relying on younger players. The Sox strayed from it several years ago to disastrous effect.
As Cafardo notes in his column, Henry was particularly emphatic about a study showing the costs of signing players over 30 to long-term deals. "To me," Henry told me, "the most important thing this study shows is that virtually all of the underpaid players are under 30 and virtually all the overpaid players are over 30. Yet teams continue to extravagantly overpay for players above the age of 30." I asked Henry to compare the Sox' approach to that of the New York Yankees, who spent $500 million in the off-season. "It is a wildly different approach," he said. "We haven't participated in this latest feeding frenzy of bidding up stars."
As a Sox fan who'd love to see Lester stay put, I'll admit that hearing this from the team owner was like a piercing arrow to the heart. The low-ball offer the Sox made to Lester in spring training seemed like proof of Henry's resolve. But the most ominous sign to me was something Henry said that was cut from the final draft of my piece. After reading Cafardo's column, I went back to my notes and dug it up.
My contention in the profile is that professional baseball is becoming a lot like trading commodities futures—and that Henry's history as a pioneering futures trader offers insight into how he approaches baseball. He seemed to agree. The big thing to understand about Henry-the-trader is that he is a contrarian with a deep, almost religious, faith in ignoring popular opinion. Here's the unpublished passage I dug up from my notes, where Henry compared his trading strategy to baseball:
"The worse something felt, generally the more certain I was that I was right. The big trades we made money on, a lot of them didn't make [outward] sense. The same thing is true in baseball: Fans often won't like what turn out to be the best moves. If you're a baseball fan and your [general manager] makes a trade that everybody loves, it's probably not going to turn out well over the long term. It's the same thing in trading: What looks good on the surface, below the surface often doesn't look good." (Emphasis added.)
I should stipulate that we weren't talking specifically about Lester. Henry did say there were exceptions. And when we spoke, in mid-April, the Sox were expecting to contend for another World Series title, not to be mired in the American League East cellar. Maybe the team's lousy season has changed the Jon Lester value proposition. Sox fans can hope so.
Still, Henry kept returning to a single theme: "Trends persist." That's true in commodities trading and baseball alike. Sure, there are exceptions. But the performance of star pitchers over 30—whether Johan Santana, C.C. Sabathia, or Brandon Webb—doesn't leave much doubt about the direction of the trend, or why Henry might choose to do something deeply unpopular.
Before it's here, it's on the Bloomberg Terminal.
LEARN MORE