Six Flags Blames Thin Crowds on Winter Fallout, Not Higher Prices
by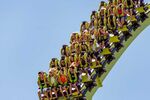 The chief executive officer of Six Flags Entertainment invoked "long tentacles" during a conference call on Monday, and he wasn't talking about a new thrill ride. The nastiness of the past winter has stretched into the amusement park company's second-quarter results through elongated school calendars and shorter holiday breaks, curbing attendance and sales. Yet Six Flags also raised admission prices this spring, helping to offset an 8 percent drop in attendance by enticing customers to spend more money at the company's 18 parks.
Perhaps those higher prices also kept the crowds away? Six Flags executives insisted on blaming the weather and its impact on the school year, not the new prices. "We are absolutely convinced that this attendance shortfall is due to fewer visits by season pass holders and members mainly, and it's primarily due to the school calendar and these weather issues, not pricing," CEO Jim Reid-Anderson said. "I mean, there may be a little [pricing] element, but it's small."
Sales for the quarter grew to $376.6 million as a result of the 11 percent increase in per capita guest spending at the parks. But revenue came in below the $396.3 million analysts had expected, and it's not entirely clear whether that trend of higher spending by a smaller base can or will continue.
Here are the three reasons Six Flags executives cite for their confidence about the recent price hikes:
1. Six Flags has always been a cheaper ticket than rivals such as the Walt Disney parks or Universal Orlando. "We know we have opportunity to close this gap even while other theme park operators continue to further raise their prices," John Duffey, Six Flags' finance chief, said on today's call.
2. Customer satisfaction is high, Six Flags says, based on guest surveys.
3. Season pass sales—which rose 9 percent and provide recurring monthly revenue to smooth out seasonality—have assured company executives that demand for the product is strong.
Reid-Anderson said the harsh winter also delayed the opening of four new rides by as much as a month at parks in Georgia, Illinois, New Jersey, and Mexico. Six Flags shares fell 7 percent in morning trading, with the stock up about 4 percent this year.
Before it's here, it's on the Bloomberg Terminal.
LEARN MORE