Widodo Wins Indonesian Vote as Prabowo Withholds Concession
Novrida Manurung, Rieka Rahadiana and Yoga Rusmana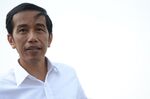 Joko Widodo, the governor of Indonesia's capital city who ran for president on a platform of concern for common people, won this month's election by more than 6 percentage points.
The ticket of Widodo and Jusuf Kalla won with a total of 71 million valid votes nationwide, Husni Kamil Manik, head of Indonesia's General Elections Commission, or KPU, said in Jakarta today. That gives Widodo, 53, a mandate to govern from October until 2019, he said.
Widodo, known as Jokowi, secured 53.15 percent of the count, the commission said, with his opponent, ex-general Prabowo Subianto winning 46.85 percent. Prabowo, 62, whose campaign offered voters strong and decisive leadership, held off on a concession after repeatedly alleging ballot fraud.
"It's clear that this is a new chapter for Indonesia," said Achmad Sukarsono, an associate fellow at Jakarta-based research institute The Habibie Center. "Indonesians want to have a leader who can understand them. Their imperfections, their conditions, their demands. Not someone who thinks that they know and then they make policies with that kind of confidence."
Prabowo's move to withdraw from the vote count while calling the process undemocratic raises the prospect of weeks of uncertainty, including a potential constitutional court challenge. Ensuring a smooth transfer of power when current president Susilo Bambang Yudhoyono steps down will be a test for a country that held its first direct election for president just a decade ago.
Jokowi will face challenges both at home and abroad. He will need to assure investors the nation's most divisive presidential election won't erode democratic and economic progress since dictator Suharto stepped down in 1998.
Restoring Unity
Jokowi, whose reputation for corruption-free leadership and penchant for plain talk propelled him to governor of the capital in 2012, is set to become Indonesia's first directly-elected leader without ties to the Suharto era. He has said if there is friction in Indonesia, it is among the nation's elite and that any political divide probably won't last.
"I'm sure after maybe two weeks, after one month it will already be finished, and we will start returning to normal, with farmers going to the rice field, and then the fishermen going to the sea and then the workers going to the factory," he said in an interview yesterday. "I think we are a diverse and dynamic country, and we have unity in diversity."
Jokowi said he plans to meet the leaders of key political parties, including Golkar -- the nation's second-largest party - - and Yudhoyono's Democratic Party of Indonesia, which both backed Prabowo.
Not Withdrawn
Rupiah one-month non-deliverable forwards reversed an earlier drop to gain 0.7 percent from July 21 to 11,509 per dollar after the results were released, data compiled by Bloomberg show. The iShares MSCI Indonesia ETF gained 1.2 percent to $29.79 as of 12:01 p.m. in New York, after falling as much as 1.6 percent earlier today.
Prabowo has not withdrawn his candidacy, his brother Hashim Djojohadikusumo said by mobile-phone text message. Campaign spokesman Tantowi Yahya said by phone that Prabowo was still seeking a re-vote in some polling stations.
"The process of the 2014 presidential election done by the KPU was problematic, undemocratic and against the constitution of 1945," Prabowo told supporters in Jakarta before results were announced. The KPU hadn't been transparent in the vote count, which caused the "loss of Indonesian citizens' right of democracy," he said.
Prabowo has three days to contest the results in the constitutional court. A legal challenge would mean a month of uncertainty for voters and investors in the world's third-largest democracy, where growth slowed to the weakest pace since 2009 in the first quarter.
'Very Difficult'
"It has never been done before in the history of Indonesia's presidential election, this kind of dispute in the constitutional court where the margin with the winner is already 6 percent," said Nasir Tamara, a visiting professor at Gadjah Mada University in Yogyakarta. "It is very, very difficult because it is a clear majority," he said. "Based on the past experience of the constitutional court, the judge there normally would not overturn the result if it is more than 2 percent."
Prabowo's camp on July 20 asked the KPU to halt the vote count, saying there was evidence of "massive" fraud to affect the outcome. His team had called on the KPU to defer the results until Aug. 8.
Jobs, Education
Jokowi is a self-made businessman from a middle class family who, after entering politics in his home town of Solo in central Java, captured the imagination of voters nationwide with his penchant for mingling with the people. As governor of Jakarta, he built a reputation as a reformer who focuses on bread and butter issues such as health care and transport.
He will be tasked with providing jobs and education to a growing population in Asia's fifth-largest economy at a time when demand for its commodities such as coal and palm oil has slowed. He will also face increasingly complicated regional relations, including territorial disputes with China that are simmering on Indonesia's doorstep in the South China Sea.
"We must address shortcomings in infrastructure, manufacturing, and then we need to invest more in strong human capital," Jokowi said in the interview yesterday. "When our economy grows more than 7 percent, I am very confident" it will strengthen Indonesia's role in international forums, he said.
Before it's here, it's on the Bloomberg Terminal.
LEARN MORE