The Internet Has Spoken: Airbnb's New Logo Looks Naughty
by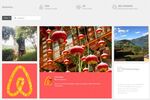 Airbnb's logo redesign set off a flurry of Internet commentary. The peer-to-peer accommodation website touted its new mark as a symbol of belonging—the feeling of acceptance its guests have when renting homes from their hosts in foreign places. The larger online public, however, offered different interpretations of Airbnb's ostensibly benign upside-down heart logo, which to some resembles breasts, buttocks, a uterus, a vagina, and, of course, male genitalia.
Joe Gebbia, the company's co-founder, says the design team did some "very serious semiotics work" to see how the symbol would resonate among different cultures. The response, he says, was "resoundingly positive." One wonders whether those semiotics turned up any sexual comparisons.
But prurient references aside, the logo could be seen as transgressive in an entirely different way. As Valleywag points out, it looks similar to this one for Automation Anywhere, a San Jose (Calif.) software company.

The companies have come to an understanding, with Automation Anywhere agreeing to modify its logo, though the terms of the deal have not been disclosed. The joint statement reads: "In early 2014 both Airbnb and Automation Anywhere began use of new logos that, by coincidence, have similar designs.  Airbnb and Automation Anywhere are working cooperatively to address this issue, and Automation Anywhere is in the process of transitioning to a new logo design that is not similar to the Airbnb logo."
The controversy underscores one of the pitfalls of branding—and copycatting, intentional or not—in the digital age: Everything's searchable. Airbnb and its image maker, London's Design Studio, say it took a year of extensive research to come up with a mark to rival the Nike swoosh. Perhaps they should have started with a simple Google Image search.
Before it's here, it's on the Bloomberg Terminal.
LEARN MORE