Support and Defend: Tom Clancy's Legacy Lives On
With a second posthumous novel, Tom Clancy's legacy lives on
by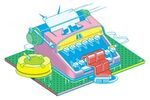 Like the assassin-dodging, terrorist-disrupting protagonists in his spy novels, Tom Clancy is defying death in improbable ways. On July 22, Penguin Random House will publish Support and Defend, the second novel to land in bookstores since the author passed away almost nine months ago.
Mark Greaney, a prolific spy novelist who's teamed up with Clancy on three prior novels, is technically the author of Support and Defend, though you wouldn't necessarily grok that from glancing at the book's cover. "Tom Clancy" sprawls over the top half in jumbo font, dwarfing everything else below, including the title, Greaney's byline, and the silhouette of a submachine gun. The design leaves no doubt who's the top gun.
Inside, Support and Defend shows off much of the same tense storytelling, special forces-trained characters, and fussy descriptions of military equipment that have hooked millions of readers since Clancy's 1984 debut, The Hunt for Red October. The new book continues Clancy's so-called Campus series and stars Dominic Caruso, the nephew of Jack Ryan, the CIA-operative-turned-U.S.-president who is Clancy's most famous character and the basis for Paramount Pictures' Jack Ryan film franchise.
Here we find Caruso carrying on the family business of thwarting terrorists—in this case, a rogue ex-U.S. intelligence officer armed with a microdrive of diplomatic secrets. Such is pulse-racing military suspense in the age of Edward Snowden. The tale is well-paced, cleanly written, and competently told. The plot tends to dissuade any impulse to slow down and inspect the finer moldings of the prose. The casual Clancy reader will likely find it largely indistinguishable in style or effect from the Clancy novels of yore.
Which, of course, is what Penguin Random House wants. Clancy's first posthumous novel, Command Authority, also penned with Greaney, has sold 303,000 copies since its publication in December, according to Nielsen. Expect Support and Defend to achieve similar levels of ubiquity.
Given the current, sickly state of the industry, it's perhaps appropriate that one of the biggest books of 2014 is coming from a recently deceased writer. Michael Norris, an independent book industry analyst, says major publishers are more dependent on blockbuster-style series by established writers with big back catalogs—authors such as J.K. Rowling (Harry Potter), George R.R. Martin (Game of Thrones), and Clancy. Penguin Random House's other major book in July is A Perfect Life by Danielle Steel, the 93rd novel of her paleohistoric career.
For many years, Norris says, publishers relied largely on bookstores—with their knowledgeable staffs, public readings, and acres of display shelves—to introduce readers to lesser-known talent. With the rise of Amazon.com, "it's now unbelievably tough to introduce a new author and new characters to a book audience," Norris says. "From a marketing standpoint, it's much easier to reintroduce the familiar than to introduce something that is genuinely new."
And so Penguin Random House is now completing the important task of transforming Tom Clancy, deceased spy novelist, into Tom Clancy, the brand. There's plenty of precedent. Several adventurous characters, such as James Bond and Sherlock Holmes, went on to rich and productive careers after their creators passed away. And publishers have long managed to successfully expand series based on popular books, from The Wonderful Wizard of Oz to Dune to The Bourne Identity, by subbing in new writers in place of deceased authors.
Lou Aversano, the chief executive officer of Ogilvy & Mather New York, points out that such franchises tend to be marketed around the characters, not their creators. So don't be surprised, he says, if Jack Ryan begins to eclipse Tom Clancy. "That's something the Clancy estate needs to think about if they want the business to continue."
Before it's here, it's on the Bloomberg Terminal.
LEARN MORE