Germany's Merkel Avoids Painful Economic Reforms
Unlike her predecessor, Angela Merkel is avoiding painful domestic reforms
By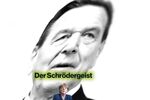 "The wise man voluntarily does in good times that which the stupid man involuntarily has to do in bad times," says Stefan Heidbreder, managing director at the Stiftung Familienunternehmen, a foundation for family-owned businesses. He's quoting a German proverb, and he's hoping that Angela Merkel is wise.
Merkel has been chancellor for eight years. Germans see her as having ably guided the country through the euro crisis. In June the Deutsche Bundesbank, looking at domestic demand and a rise in construction, raised its estimate of gross domestic product growth in 2014 to 1.9 percent, well above the euro zone average. Merkel enjoys an approval rating of 71 percent. If an election were held today, her Christian Democrats would likely get more votes than any other party. On July 13, as Manuel Neuer collected his Golden Glove trophy as the World Cup's best goalie, he gave his chancellor a spontaneous hug. She doesn't look like a politician who's doing anything wrong.
And yet she is dogged by a peculiar accusation: She's not doing enough to make herself unpopular. In 2003, Merkel's predecessor Gerhard Schröder, a Social Democrat, pushed through a package of reforms that made it easier to fire workers and reduced long-term unemployment benefits. The changes were designed to bring down Germany's 12 percent unemployment rate. They were painful and unpopular and cost Schröder his job in 2005. Many German economists also believe that they worked, just in time for Merkel to benefit from them. In her first term she raised the retirement age to 67, but this year's budget, the first from a new grand coalition of Christian and Social Democrats, shows that the parties have agreed to back away from immediate sacrifices. "From the point of view of family businesses," says Heidbreder, "a long-term perspective is missing from government policy."
"There is always a temptation to now say we have these fruits of our labors, now let's consume them," says Volker Wieland, an economist at Goethe University in Frankfurt. He sits on the German Council of Economic Experts, a more independent version of the White House's Council of Economic Advisers. Concerned about the policies of Merkel's coalition after last fall's elections, the council subtitled its annual report "Against a Backward-Looking Economic Policy."
The November 2013 report argued that politicians were failing to deal with Germany's graying demographics. Merkel's coalition, which was formed soon after, lived up to that expectation. It decided to take money out of Germany's pension reserves, rather than finding it in the budget, to award retroactive pension benefits to parents for time spent at home with children. The Social Democrats exacted a temporary provision to grant retirements at an age as young as 63. Further, the coalition bound itself to a minimum wage, new for Germany, and price controls on rent. Forming the coalition "became very expensive," says Wieland.
The council of experts pointed out that it was hard for Germany to instruct the rest of Europe to cut benefits and shed regulations in labor markets while failing to demand the same of itself. "The present economic situation and Germany's healthy position compared to the euro area's crisis countries seems to have obstructed many politicians' view of the major future challenges," the report concluded.
"It's a little like the World Cup; Germans think they did everything right," says Marcel Fratzscher. "If you look at productivity and investment, it's not consistent with German perception." Fratzscher, an economist who runs DIW Berlin, a think tank, points out that productivity per worker in Germany has remained flat this decade, even as politicians boasted of the country's competitiveness and how cheap it is to produce goods there. Germany, in fact, achieved that by holding down wage growth, remaining competitive not through reform but through self-abnegation. Says Fratzscher: "Germany has focused entirely on wages."
A country can improve its productivity per worker through better education, loosening its labor laws, or putting more money into infrastructure and equipment—what's known as capital investment. Germany has one of the lowest levels of both public and private capital investment of the member states of the Organisation for Economic Co-operation and Development, says Fratzscher, and DIW Berlin estimates that Germany has an "investment gap" of €80 billion ($108 billion) a year.
A 2012 report by Germany's states found an annual deficit in public infrastructure investment of €7.2 billion. According to the Boston Consulting Group, a third of German rail bridges are more than 100 years old. Last year a lock failed in the Kiel Canal, the most heavily trafficked man-made waterway in the world, forcing freight to sail up and around Denmark. In a 2013 poll, 57 percent of businesses said they had been hindered by insufficient infrastructure, 10 percent in a serious way. In the 1970s, Germany spent 4.2 percent of GDP on infrastructure. Last year it was 1.2 percent. "Right now it's functioning fairly well," says Christoph Rothballer of BCG. "We're living from this past investment."
Merkel's coalition has agreed to increase capital investment to the OECD average, but it pledged only €5 billion to infrastructure through 2017. This is far short of what's needed, says Fratzscher, and it's also not clear where it will come from. "It's this euphoria," he explains. "We can't possibly be doing better, we have achieved everything we could possibly achieve, we have suffered, and now it's time to reward ourselves."
Pessimism, not soccer, is Germany's national sport. It would be possible to find German economists worried about Merkel's lack of foresight no matter how well she managed their economy. But it's also true that any politician with a 71 percent approval rating should be inclined to spend more political capital. Perhaps things are just going too well. "Ten years ago, Germans were depressed," says Fratzscher, referring to the time when Schröder was chancellor, "and that was the only way the Social Democrats could push through those reforms." Angela Merkel should be so lucky.
BOTTOM LINE -
The bottom line: Merkel has political capital to spare, but she isn't using it to prepare Germany for the future.
Before it's here, it's on the Bloomberg Terminal.
LEARN MORE