A Medical Technology Hackathon for India's Poor
By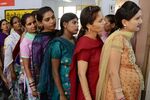 One of every three children in India dies before age five. Seventeen percent of all women dying during childbirth are in India, and mothers in India and other developing countries are 14 times more likely to die than their counterparts in wealthier countries.
In an effort to put some of that power to work to address those dismal health-care statistics, about 250 engineers, entrepreneurs, and health-care specialists from India's startups and IT and drug companies are gathering this week in Bangalore, the nation's high-tech hub. They're slated to take part in a two-day hackathon organized by Boston's Consortium for Affordable Medical Technologies (CAMTech) in which teams compete to turn ideas into innovative prototypes for maternal and child health care. Among the multinationals supporting CAMTech is General Electric, which will host the hackathon at its R&D center named after Jack Welch.
By getting hundreds of people together in one place and challenging them to work quickly, CAMTech is trying to "take a great talent pool which is fragmented and create a recipe for accelerated innovation in 48 hours," says Smitha Gudapakkam, the consortium's manager for business development. At the hackathon's conclusion, teams will make 3-minute presentations and a panel of eight judges will hand out between 10 to 15 prizes, including a first-place award of 250,000 rupees ($4,160).
This will be the sixth hackathon sponsored by CAMTech since its launch two years ago. Part of Massachusetts General Hospital's Center for Global Health, CAMTech works with such partners as MIT and Harvard Medical School as well as organizations in India and Uganda. Operating in Uganda, notorious for anti-gay legislation championed by President Yoweri Museveni, is "not without its challenges," says Elizabeth Bailey, CAMTech's director. But it's in India where CAMTech has the most potential, with the consortium enjoying what Bailey calls "exponential growth over the past year." CAMTech has teamed with partners across the country, including Glocal Healthcare, a Kolkata-based chain of rural hospitals, and Narayana Health, a hospital operator in Bangalore focused on providing affordable care on a large scale.
With so much talent in Mass General's backyard, why go across the world to India? "The guiding principle is co-creation," says Bailey, adding that it's important for people with first-hand knowledge of health care in developing countries to be part of the process. "The end-users need to drive the technology innovation process," she says. "People on the ground know their problems certainly better than we do in Boston."
CAMTech is planning a hackathon in Uganda next month, to be followed by an entrepreneur "boot camp" in India in December for some of its most promising entrants.
Before it's here, it's on the Bloomberg Terminal.
LEARN MORE