Japan Rejoining Nuclear Club Leaves Fossil Fuel Appetite
Jacob Adelman and Chisaki Watanabe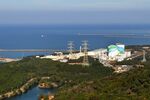 Japan is poised to rejoin the world nuclear club -- barely.
Yesterday's report vouching for the safety of Kyushu Electric Power Co.'s atomic station in southern Japan means the utility's two reactors in Sendai may begin operating as soon as October or November, according to Yoko Nobuoka, a Tokyo-based analyst with Bloomberg New Energy Finance. Two more units may be working by the end of the year, she says.
The lengthy approval process -- utilities began applying to restart their reactors more than a year ago -- indicates Japan may remain nuclear-free throughout the summer when power demand is typically at its highest. Even with some nuclear capacity restored, the contribution to Japan's energy mix will remain marginal, leaving the nation reliant on dirtier-burning fossil fuels such as coal, oil and liquefied natural gas.
"We still hold the view of not a wave of nuclear restarts, it's more gradual than that," Nicholas Browne, a Singapore-based analyst for energy consultant Wood Mackenzie, said by phone. "Consequently, we're not forecasting a significant drop in LNG demand or coal demand."
Japan spent 57 percent more on fossil fuels in the year ended March 31 compared with the year ended March 2011, when the Fukushima nuclear accident occurred. Traditional fossil fuels now account for about 88 percent of Japan's power output, up from about 60 percent before Fukushima, according to the latest data from the nation's utilities association.
LNG Prices
North Asia LNG prices have rallied 54 percent since Japan shut nuclear plants and boosted gas purchases for power generation. Several plants need to be reopened for prices to slump significantly, according to SMBC Nikko Securities Inc., a Tokyo-based brokerage.
By the end of this year, 5 gigawatts of nuclear capacity may be operating in Japan, Bloomberg New Energy Finance estimates. That may triple to 15 gigawatts in 2015, according to a June 20 report from the London-based researcher.
The regulator expects inspections on other units using the same pressurized water reactor technology as those used at the Sendai plant to go "more smoothly," Chairman Shunichi Tanaka told reporters yesterday.
"It solidifies the fact that they are going to restart," said Rob Chang, a Toronto-based analyst with Cantor Fitzgerald, who sees about two-thirds of Japan's pre-Fukushima fleet of 54 reactors returning to operation. "It's just two but it's an important two because it signals Japan is back in terms of nuclear power."
Nuclear Decision
Still, the decision is far short of a nuclear renaissance for Japan, which relied on atomic power for more than a quarter of its electricity needs before Fukushima. The nation's fleet of operable reactors -- now down to 48 -- remain idled. Japan has been without nuclear power since July 2013, when Kansai Electric Power Co.'s No. 4 reactor at its Ohi plant went offline for maintenance.
The Sendai reactors, at 890 megawatts each, will do little to satisfy energy demands. Combined, the reactors represent just 5 percent of the 33.5 gigawatts of total nuclear capacity Japan had online in the week before the Fukushima disaster.
"This decision doesn't do anything to resolve what happens in the longer term, like the decision whether reactors will be permitted to operate past a 40-year operating life," said Browne from Wood Mackenzie. "There are these longer-term questions that will be very important for the longer-term Japanese fuel mix."
Political Victory
Japan's step toward the resumption of nuclear energy is a victory for Prime Minister Shinzo Abe. Unlike Germany, which under Angela Merkel has vowed to scrap nuclear energy altogether, Abe has held that atomic energy plays a vital role in his nation's energy mix. The latest policy pronouncement on energy terms nuclear an important source of base-load power.
Abe took office on Dec. 26, 2012, replacing Yoshihiko Noda, whose party had aimed to phase out nuclear.
Uranium producers also stand to benefit. Uranium has fallen about 60 percent since Fukushima. The atomic fuel dropped to $28 a pound on May 19, the lowest since May 2005, according to data from Ux Consulting Co. in Roswell, Georgia.
Restarts are the "most important psychological catalyst for the uranium space," David Sadowski, a Vancouver-based analyst at Raymond James Ltd., said on June 19. The financial adviser predicts a surplus of 10 million pounds this year.
Regulatory Structure
Yesterday's report is the first safety assessment of a Japanese nuclear power plant from the Nuclear Regulation Authority, which was set up to replace a predecessor criticized for ignoring warnings before the Fukushima disaster.
"The government has stated it wants to see nuclear come back," Browne said. "I think this will also indicate that the NRA isn't just an agency that is looking to block nuclear power, that once their criteria are met that it will confirm that plants are safe to reopen. Clearly, that is a positive signal to other utilities which are also hoping to have their safety standards approved by the NRA."
Still, Abe has a tough sell ahead in Japan, where nuclear energy remains unpopular. Fifty-nine percent of those who responded to a poll in March by the Asahi newspaper opposed its resumption.
"If anything, this will make public opinion think we're back to business as usual," said Daniel Aldrich, an associate professor of political science at Indiana's Purdue University who focuses on Japan and disaster recovery. "We have a regulator who has perhaps drawn the process out, made it more challenging than in the past, asked more questions, but may not deny a license to anyone."
Energy Mix
Besides regulatory oversight, the Fukushima accident is also transforming Japan's energy profile. In July 2012, Japan introduced some of the world's most generous incentives to attract clean-energy development. Renewable generation capacity has surged by 43 percent as a result.
Japan has added nearly 9,000 megawatts of clean energy capacity since the incentive program's introduction, according to data from the Ministry of Economy, Trade and Industry. Clean energy, excluding hydro power, accounted for 3 percent of the nation's total power output in April, trade ministry data show.
"In our view, only about 50 percent of nuclear will ultimately return," said Wood Mackenzie's Browne. "If you do want to replace and build new megawatts of capacity, renewables is clearly one of those options."
(Company corrects renewable energy contribution to Japan's power output in second-last paragraph in story originally published on July 17.)
Before it's here, it's on the Bloomberg Terminal.
LEARN MORE