Japan Readies Atomic Restarts as Regulator Signals Approval
Jacob Adelman, Masumi Suga and Emi Urabe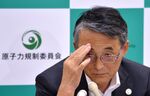 Japan's nuclear regulator vouched for the safety of two reactors in the country's south, setting in motion the re-adoption of atomic power even as most Japanese remain skeptical after the Fukushima disaster of 2011.
The Nuclear Regulation Authority said in a 400-page draft report that Kyushu Electric Power Co.'s No. 1 and No. 2 reactors at its Sendai plant in southern Japan's Kagoshima prefecture passed safety checks. The NRA's commissioners agreed at a meeting today to move to the next step of seeking public comment.
The plant's combined 1.78 gigawatts is about 5 percent of Japan's nuclear capacity online in the week before the Fukushima disaster. The report is the first safety assessment of a Japanese nuclear plant from the regulator, which was set up to replace a predecessor that ignored warnings before the atomic disaster in Fukushima.
Restarting the plant would advance Prime Minister Shinzo Abe's policy of reviving the country's nuclear industry to cut down on fossil fuel costs that have resulted in 23 straight months of trade deficits for the resource-poor nation. Before the Fukushima accident, nuclear provided more than a quarter of Japan's electricity.
Review Meetings
"This one particular plant won't move the dial, but it will be very important for gaging sentiment," said Joel Crane, the vice president of research at Morgan Stanley in Melbourne. "Japan is at a fork in the road whether to go nuclear or not."
The regulator's inspectors verified that Kyushu Electric is following the procedures that will allow its Sendai reactors to operate safely during normal operations, as well as during accidents caused by earthquakes or other outside causes, according to the draft report. The company also has procedures in place to stop the spread of radiation during an accident.
"The NRA held 62 review meetings on conforming to the new regulation safety standards and spent more than 110 hours on the meetings," said Tomoya Ichimura, a director at the NRA's regulation division for pressurized water reactors. Assuming that the Sendai report will serve as a model for further safety drafts, the time required for a second plant "will shorten significantly," he said.
Public Opposition
A long-term energy plan approved by Japan's cabinet in April identified nuclear as "an important base-load energy source," while seeking to limit the country's reliance on nuclear power.
"We believe the regulator will conduct thorough safety checks to ease the public's concern," Chief Cabinet Secretary Yoshihide Suga told reporters today in Tokyo. "We expect the regulator to conduct inspections based on what are said to be the toughest safety regulations in the world."
Still, nuclear restarts remain unpopular in Japan since the March 11, 2011 earthquake and tsunami caused the meltdown of three reactors at Tokyo Electric Power Co.'s Fukushima Dai-Ichi atomic plant. About 160,000 people were forced to evacuate because of radiation fallout from what was the worst civilian atomic disaster since Chernobyl in 1986.
Fifty-nine percent of those who responded to a poll in March by the Asahi newspaper opposed their resumption.
"Commercial Interests"
The Greenpeace environment group criticized the NRA report in an e-mailed statement, saying there was no effective plan to evacuate the area in case of an accident and that inadequate consideration had been given to the risks posed by the active volcano Sakurajima 50 kilometers away.
''The NRA has yielded to the enormous pressure of the nuclear industry and the Abe government and approved this first step to restarting the Sendai reactors,'' Greenpeace energy campaigner Kazue Suzuki said. ''The NRA puts people second to the commercial interests of electric utilities, a major reason for the Fukushima disaster.''
In its efforts to restart the Sendai plant reactors, Kyushu Electric will be the first of Japan's nine nuclear utilities to follow an approval process that's evolved since the March 2011 disaster.
Before then, utilities seeking to restart reactors closed for maintenance or other reasons first secured approval from Japan's trade ministry, which made its decision based on a ruling from a now-defunct regulatory body within the ministry. Prefectural governors and other local officials then were asked to sign off on the restarts.
Industry Regulation
That process has changed since the Fukushima accident, which prompted the establishment of the NRA to review Japan's nuclear power independently of the trade ministry.
The NRA's rules, finalized in June 2013, require nuclear power plants to build secondary control centers at least 100 meters (328 feet) from reactor buildings to manage emergency cooling systems and demand that tsunami defenses be based on the largest estimated waves from the most recent scientific assessments.
The NRA's role is to check whether reactors meet safety requirements, not to approve their restart, Tadashi Yamada, a spokesman for the regulator, said in an e-mail. Actual approvals are the sole responsibility of local government officials, he said.
These officials will include Kagoshima Governor Yuichiro Ito, who won re-election in July 2012 over a candidate who opposed restarts at the Sendai plant.
Local Approvals
Kyushu Electric has not yet determined its procedure for seeking local approvals, spokesman Hirotake Kakehashi said by phone.
Although Sendai resumptions would demonstrate the possibility of restarts despite the NRA's tougher guidelines and popular skepticism toward nuclear power, the process will remain slow and difficult for Japan's utilities, Raymond James & Associates said in a June 19 research note.
Japan will probably see no further restart approvals until 2015, when as many as seven reactors could resume operation, according to the report by analyst David Sadowski. These include two more Kyushu Electric units and two reactors operated by Kansai Electric Power Co., Japan's second-biggest utility.
Two-thirds of Japan's pre-accident fleet of 54 reactors may never be restarted due to damage, seismic conditions that don't meet NRA guidelines and local opposition, according to the report.
Financial Losses
Japan's current operable commercial fleet of 48 reactors are all currently shut for maintenance or safety checks. The last of the reactors was idled in September 2013.
The draft report's release begins a public comment period of more than a month, said Yamada. The agency has no target date for the release of its final report, he said.
The timing means the reactors will be operating for little, if any, of Japan's peak-use period, which lasts from July through September. Without nuclear power, the western region where the reactors are located is working on a thin margin of reserves, stoking fears that a thermal plant failure could leave companies and homes without enough electricity.
Utilities have also been suffering financially from the idling of their nuclear plants, which have forced them to boost fossil fuel imports.
Those costs resulted in a net 1.5 trillion yen ($14.8 billion) in losses for eight regional operators of atomic plants excluding Tokyo Electric since the Fukushima accident, wiping out all of their earnings from the three years before the disaster.
Japan spent 28.4 trillion yen on fossil fuels in the year ended March 2014, up 57 percent from 18.1 trillion yen in the year ended March 2011, when the Fukushima accident occurred, according to Finance Ministry data.
Further restarts would cut those fuel costs, even if Japan's nuclear fleet is left diminished from pre-accident levels, Crane said.
''A third or a half is probably the most optimistic forecast and I think that would help a lot," he said.
Before it's here, it's on the Bloomberg Terminal.
LEARN MORE