New York's Attorney General: Reluctant Scourge of the Sharing Economy
By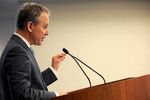 The Internet hasn't been happy with New York Attorney General Eric Schneiderman. He went to court last week alongside Benjamin Lawsky, the state's first superintendent of financial services, to keep ride-sharing company Lyft from launching its service in New York City over concerns about its insurance coverage. The strong move from two powerful state officials prompted a wave of criticism from those who are enthusiastic about Lyft and the broader sharing economy, a loose term for startups that connect those with a car or vacant apartment to those looking for rides or accommodations.
The attorney general "ramps up his opposition to [the] sharing economy," complained Jeff Jordan, an investor with venture capital firm Andreessen Horowitz. "He opposes economic empowerment for New Yorkers." (Bloomberg LP, which publishes Bloomberg Businessweek, is an investor in Andreessen Horowitz.)
Such is life for Schneiderman, the local killjoy-in-residence when it comes to edgy tech companies increasingly pushing into the big city. The dispute with Lyft is the latest in a series of legal proceedings involving digital upstarts whose business models threaten one existing industry or another in New York City. The action follows a similar pattern: Schneiderman raises a concern about a hot tech startup; Schneiderman is pilloried as a patsy for some backward-looking industry and criticized for not understanding technology; then a deal is either reached or not.
John Cahill, a Republican running for attorney general, says Schneiderman's earlier interactions with Airbnb and Uber belie a larger anti-business philosophy. "We have new technology, and our current regulations do not allow for them," he told the New York Observer last month. "So we need to change our regulatory structure. There is a way to address things without first going to the courthouse."
Schneiderman agrees—he just places the blame elsewhere. In an opinion piece in the New York Times in April, the attorney general said that "self-proclaimed cyberlibertarians" at startups had forced his hand by refusing to deal with the government in good faith. Proponents of the sharing economy commonly claim that there's no way for current regulations to handle the types of economic exchanges it fosters; Schneiderman says that's not true in most cases.
Lyft's service, in which people ferry one another around in their own private vehicles, is certainly a break from the traditional form of livery service operating in New York City. But Micah Lasher, the attorney general's chief of staff, sees the dispute with Lyft as an avoidable one. "They are operating a business that could operate within the regulatory structure," he says. "I don't think the tension is inherent."
A major sticking point is the divergent timelines of tech startups and government agencies. Lyft has been dying to bring its business to New York for a long time, and the company has spent months discussing how best to do so with various regulators. But things came to a head earlier this month when it announced that it was launching with just a few days' notice. Lasher says Lyft didn't show regulators its insurance policy until two days before it planned to go live.
In a meeting several days before the launch, officials complained that Lyft had misled them about its plans to start doing business in the city. Lyft acknowledged it wasn't giving them much time in a letter to Schneiderman and Lawsky. It said it was willing to continue to make further changes to its insurance after the service launched. That apparently wasn't good enough. The lawsuit was filed, delaying Lyft's launch, and the two sides began issuing warring press releases.
The matter will be back in court on Friday. In the meantime, Lyft has been working with the city's Taxi and Limousine Commission to introduce a pared-back version of service. All drivers would be commercially licensed until it could come up with some lighter form of regulation for nonprofessional drivers who want to use the service at some point in the future. It would also need to reach a deal with Schneiderman and Lawsky.
"We did attempt to meet with them and continue to meet with them outside of the court proceedings," says Lyft spokeswoman Erin Simpson, who declined to discuss why Lyft didn't delay the launch until its insurance issues could be resolved.
Several people who have dealt with the attorney general's office on issues related to the sharing economy say Schneiderman hasn't been the one to raise the level of confrontation. Uber, which has a history of clashing with regulators, recently reached with his office a deal limiting its surge pricing during emergencies. It was happy enough with the deal that it adopted the same policy nationwide.
On the other side of the coin is Airbnb, which has spent the better part of a year engaged in a public fight with Schneiderman. The attorney general subpoenaed the company for information about its hosts, many of whom seem to be in violation of state laws designed to combat illegal hotels. Airbnb's strategy has been to pummel the government in public, and it has succeeded in making people angry with Schneiderman. But the backlash hasn't helped Airbnb get much closer to an agreement allowing it to operate out from under the long shadow of law enforcement in the country's largest market.
Schneiderman's chief of staff sees a clear distinction between Uber and Lyft, on the one hand, and Airbnb on the other. The latter's business model is fundamentally at odds with state law, Lasher says, and getting people riled up doesn't seem to have done the company a lot of good yet. "I think there is a feeling that activating that constituency through social media is going to have a chilling effect on regulators," he says. "That is simply not the effect on the New York attorney general."
Before it's here, it's on the Bloomberg Terminal.
LEARN MORE