China's Expansion Accelerates to 7.5%
Bloomberg News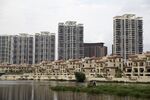 China's economic growth accelerated for the first time in three quarters after the government sped up spending and freed up more money for loans to counter a property slump.
Gross domestic product rose 7.5 percent in the April-June period from a year earlier, the statistics bureau said today in Beijing, compared with the 7.4 percent median estimate in a Bloomberg News survey of analysts. June industrial production and first-half fixed-asset investment exceeded projections.
Premier Li Keqiang's government has brought forward railway spending, reduced reserve requirements for some lenders and cut taxes to protect an annual growth goal of about 7.5 percent that's under threat from a plunge in property construction and weaker home-price gains. Even with the support, analysts have forecast China is headed for the slowest full-year expansion since 1990.
"The data are quite positive," said Zhu Haibin, chief China economist at JPMorgan Chase & Co. in Hong Kong. "The government will continue to support the key sectors it is supporting now but will not expand to sectors they are not encouraging."
Industrial production rose 9.2 percent in June from a year earlier, topping the 9 percent median estimate of analysts and 8.8 percent in May. Retail sales increased 12.4 percent from a year earlier, compared with the 12.5 percent median estimate.
Fixed-asset investment excluding rural households increased 17.3 percent in the first half from a year earlier, the statistics bureau said. That compared with the median estimate of analysts for 17.2 percent growth, also the pace in the January-May period.
Stock Markets
The benchmark Shanghai Composite Index of stocks was little changed at 1:10 p.m. local time, and the MSCI Asia Pacific Index fell 0.1 percent.
The world's second-largest economy grew a seasonally-adjusted 2 percent last quarter from the previous period, the statistics bureau said today, compared with the 1.8 percent median estimate of analysts and a revised 1.5 percent in the first quarter. That implies 8.2 percent growth on an annualized basis, up from 6.1 percent in January-to-March, according to data compiled by Bloomberg.
Australia & New Zealand Banking Group Ltd. economists raised their 2014 growth forecast to 7.5 percent from 7.2 percent, saying fixed-asset investment gains are likely to accelerate to 18 percent in the second half.
Commodity Inventories
"Further monetary policy easing across the board will be needed to reduce the downside risks facing the economy and help the Chinese authorities to deliver the 7.5 percent growth target," Liu Li-Gang, ANZ's chief Greater China economist in Hong Kong, said in a report. High inventories of commodities including imported iron ore indicate risks to growth, Liu wrote.
Local governments are starting to ease curbs on home buying to sustain the property industry. Hohhot, capital of Inner Mongolia province, became the first city to scrap home-purchase restrictions last month, followed by the eastern city of Jinan this month.
The value of home sales rose 33 percent in June from May as price cuts by developers lured buyers, based on the difference between the statistics bureau's data for the first half and the first five months of the year. The value of sales in the first six months fell 9.2 percent to 2.56 trillion yuan from a year earlier, the figures showed.
UBS AG estimates the real-estate industry accounts for more than a quarter of final demand in the economy when including property-generated needs for goods including electric machinery and instruments, chemicals and metals.
Services' Share
China's growth will become less volatile as services take a larger share of the economy, Sheng Laiyun, a spokesman for the National Bureau of Statistics, said at a briefing today in Beijing. Expansion in services quickened to 8 percent in the first half from 7.8 percent in the first quarter, the agency said.
Looser credit and increased fiscal spending may also fuel growth. Aggregate financing, China's broadest measure of new credit, was the highest for June since the lending spree of 2009 and money supply grew more than forecast, central bank data showed yesterday. Fiscal spending rose 26.1 percent in June from a year earlier, compared with an 8.8 percent increase in revenue, the Finance Ministry said July 14.
The government has also weakened the yuan, which was down about 2.5 percent against the dollar this year through yesterday, the worst performance among 11 major Asian currencies tracked by Bloomberg. The currency rose 0.03 percent to 6.2059 per dollar today.
Global Demand
Positive forces such as global demand and monetary easing may help the economy rebound in the second half, Ding Shuang, senior China economist at Citigroup Inc. in Hong Kong, said on Bloomberg Television. The property-investment slowdown will "weigh more heavily" next year and growth could slow to around 7 percent, he said.
Policy makers are trying to limit support to areas including railway spending and agriculture. The People's Bank of China cut reserve requirements for banks who qualify based on lending to rural borrowers and smaller companies, rather than nationwide, as it last did two years ago.
Using debt to support growth risks increasing dangers of a slump, with JPMorgan last year comparing China's borrowing surge to the 1980s run-up to Japan's lost decade. China's aggregate financing as a percentage of GDP rose to 206.3 percent in the second quarter from 202.1 percent in the previous period, according to data compiled by Bloomberg. The ratio was 166.6 percent at the end of 2011.
Easier credit may support regional governments in their own stimulus plans, as provinces hit hard by slumps in energy and resources announced investments last month after first-quarter growth trailed their annual targets.
Northern Hebei province will invest 1.2 trillion yuan in areas including railways, energy and housing. Heilongjiang province in the northeast will spend more than 300 billion yuan over two years in areas including infrastructure and mining.
— With assistance by Xiaoqing Pi, and Xin Zhou
Before it's here, it's on the Bloomberg Terminal.
LEARN MORE