pursuits
Bouncy Houses Are So Fun and So Dangerous
Karen Aho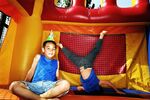 Although news of a bouncy house that blew away with kids inside went viral in June, the far more common hazards are broken bones, sprains, and hard head bumps. Almost 11,000 children, most between ages 6 and 12, were treated in emergency rooms for bouncy house injuries in 2010, up fivefold over the period from 1990 to 2005, according to the latest data available.
Cory Baird, a partner at Baird Law Group in Tampa, Fla., says he hasn't been to a children's bouncy house party yet and not seen at least one bloody nose, and where there are injuries, there are insurance claims. Baird represented a 22-year-old woman who broke her leg in six places when she slipped on a wet bouncy house trying to retrieve her toddler. The woman received a "large settlement" from the insurers of the homeowner and the rental company.
She was lucky. Not all rental companies carry coverage for inflatables: It's expensive and hard to find. "Not too many companies are really chomping at the bit to insure these mom-and-pop operations," says Joseph Previti, assistant vice president of underwriting for programs for SterlingRisk, a New York risk management firm with a history of underwriting inflatables. "There is too high a risk factor involved."
As of 2011, only 19 states regulated inflatable devices, according to the Insurance Journal. Even states that do regulate say it's hard to keep track of rogue operators who fail to register their businesses. Bouncy houses are readily available for purchase online, and it doesn't take much to buy one and set up a weekend rental business. An analysis by the Houston Chronicle last year found that of 170 businesses that advertised bouncy house rentals in the Houston area, only 30 were licensed by the state, which requires a safety inspection and proof of insurance.
SterlingRisk offers property and liability coverage for businesses with one or two bouncy houses, with limits of $1 million per claim and $2 million per year. In exchange, companies pay about $2,000 per year and must meet the company's safety protocols, which require management by experienced amusement-industry professionals, plus regular inspections and staff supervision for bouncing and for deflation. Yet, "if there's a loss, and there's a child that's injured, it's going to be severe," says Ann Stabile, Sterling's senior vice president and director of programs. "The premiums don't necessarily support the losses that come in."
Small bouncy house providers that aren't adequately insured may arrive with waivers in hand, which could hold the homeowner responsible for additional damages, Baird says. Homeowner's insurance covers guests injured in a bouncy house on the property, with basic plans providing $100,000 in liability coverage. "It does expose you, the homeowner, to a significant amount of risk," he says. Especially if it blows away.
Before it's here, it's on the Bloomberg Terminal.
LEARN MORE