London 20% Gain Pushes Up U.K. Home Values Most Since 2010
Jack Aldane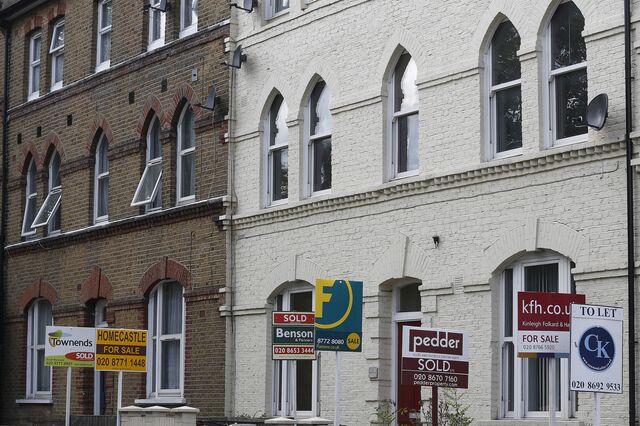 London house prices surged the most since 2002 in May, pushing an index of values across the U.K. to a record, the Office of National Statistics said today.
House-price inflation across the country quickened to 10.5 percent in May from a year earlier, the biggest acceleration since May 2010, the ONS said. London property values showed the highest levels of growth in the U.K., rising to 20.1 percent. Excluding London and southeast England, house prices rose 6.4 percent, the largest increase since 2010.
London has led the rise in British house prices in the past year, prompting Bank of England financial-stability officials to announce measures last month to limit riskier mortgages and prevent an unsustainable buildup of consumer debt. BOE Governor Mark Carney said today that the biggest risk to Britain's recovery remains the housing market.
"At the moment, house prices still look more likely than not to see clear increases over the coming months, although it is looking increasingly probable that there will be some easing back in house price gains from the recent strong increases," Howard Archer, an economist at IHS Global Insight in London, said in a note.
Even so, June data has indicated that growth may be peaking. A survey last week from real-estate research firm and LSL Property Services Plc showed that U.K. house-price growth slowed in June, while some of London's most expensive areas posted declines.
'Not Sustainable'
Historic cycles in the U.K. housing market show "extremes in geographic pockets," Carney told lawmakers on Parliament's Treasury Committee today, referring to regional differences in property values. These house-price discrepancies mean the BOE needs to improve its "understanding of credit constrained households" and to monitor their "reactions to different rate environments and various tipping points," he said.
Average house prices have been rising "on a long-term trend faster than wages for a very long time now," BOE official Martin Taylor, a member of the central bank's Financial Policy, told the committee. "It's not sustainable indefinitely, but it can go on quite a long time."
Today's ONS report showed first-time buyers paid a higher average of 11.3 percent for their homes compared with May last year. Prices for existing home owners increased 10.1 percent over the same period. Average house prices increased 0.8 percent between April and May, compared with a rise of 0.3 percent over the same months in 2013.
Before it's here, it's on the Bloomberg Terminal.
LEARN MORE