pursuits
Can a Korean Sci-Fi Movie About a Train Reinvent Hollywood's Distribution Model?
By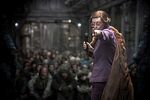 One of the most talked-about action blockbusters of the summer isn't even being released by a major studio.
Snowpiercer, the English-language science-fiction thriller by Korean director Bong Joon-ho, opened on just eight screens against Transformers: Age of Extinction two weeks ago, racking up an impressive $171,187—a glowing $21,398 per screen—for the weekend ended June 29. The movie about a futuristic high-speed train hurtling through an uninhabitable Earth expanded to 250 screens over the July Fourth weekend and made a solid $1 million, surpassing a $4,000 per-screen average.
So what kind of lunatic opens a limited-release sci-fi movie opposite a new Transformers sequel? "We took a gamble to jump into what is historically one of the biggest weekends of the year—and we lived to tell the tale," says Tom Quinn, co-president of Radius-TWC, the boutique arm of the Weinstein Co. He notes with pride that by Sunday, the film was the top-trending topic on Twitter.
Now Radius is doing something fairly unprecedented with Snowpiercer's U.S. debut, the company's widest release yet. The previous holder of that title, last year's Oscar-winning documentary 20 Feet From Stardom, slowly expanded over several months to 147 screens and a $4.9 million domestic total. But as of this coming weekend, when Snowpiercer expands to 354 screens, Radius will also be making it available to audiences who skip movie theaters and use video-on-demand.
The theatrical-VOD mix tends to work in two distinct ways. On one side, you have day-and-date releases, in which a film opens in a few theaters and—either simultaneously or soon thereafter—becomes available on demand. The more traditional model, on the other hand, puts the film in theaters first and, after a few months, offers it to on-demand viewers ahead of a Blu-ray/DVD release. It's rare for a film playing in several hundred theaters and still expanding to become available to home viewers so quickly.
Quinn says he would like to have the movie in around 600 screens by its fifth week of release. While the conventional wisdom is that on-demand will eat into theatrical profit, he hopes that with a buzzed-about, big-screen experience such as Snowpiercer, VOD will work in tandem with the multiplex expansion. "For the top-25 markets that dominate theatrical box office, we'll essentially be in wide release," he says. "But as of Friday, July 11, we're going to be more expansive than Planet of the Apes and Transformers. In a really crowded marketplace where summer tent poles are trying to establish themselves, we're going to be in 85 million-plus homes on VOD."
If this release strategy works, Radius will have outflanked the bigger players in getting Snowpiercer seen and keeping it a part of the cultural conversation. It would also counter the perception that the film's U.S. release was an afterthought. A brief controversy erupted last year when it was reported that Weinstein Co. founder Harvey Weinstein had asked for about 20 minutes of cuts to director Bong's original version of the film. After some negotiations, Weinstein agreed to release the director's cut, but some have speculated that by passing it off to his boutique distribution arm, he was effectively getting back at the director.
Quinn bristles at the suggestion. "The decision for Radius to sign on to a movie is totally a Radius decision," he says. "I decided to release the movie this way." He also notes that he has a personal, long-running relationship with Bong: As an executive at Magnolia Pictures, he oversaw the release of three of the director's previous films in the U.S. "I would never have signed on to release a movie he wasn't happy with."
Instead, Quinn hopes this idiosyncratic release strategy will broaden the range of options available to distributors of smaller films in a ruthless marketplace. "Whether you're a giant studio release or a small indie, nowadays you'll gross the majority of your expected box office in the first four to six weeks," he says. "So why not figure out a better way to maximize that opportunity—when people are talking about your movie and wanting to see it—instead of holding back on these very restrictive theatrical windows? I think this might change the way a lot of people think about film distribution."
Before it's here, it's on the Bloomberg Terminal.
LEARN MORE