Say It With Stick Figures: Your Crude Drawings Are More Effective Than PowerPoint
Ira Sager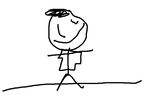 Research Brief
This ongoing series looks at intriguing research coming out of business schools. This week: why stick figures are your friends.
Paper: "Whiteboard-Imagery Found More Effective Than Traditional PowerPoint Approaches"
Authors: Zakary Tormala, associate professor of marketing, Stanford Graduate School of Business, and Tim Riesterer, chief strategy and marketing officer for Corporate Visions
The Picture Superiority Effect holds that concepts are much more likely to be remembered if they are presented as pictures rather than as words—six times better than just words, according to the research. But what kind of visual support works best? In other words, is there a superior picture approach that maximizes the Picture Superiority Effect?
Turns out, there is. New research suggests you should consider using stick figures in your presentation, not photography. In a set of online experiments, participants watched a two-minute video followed by three presentations on the material—your basic PowerPoint (with stock photography), an automated presentation in which graphics appeared to be hand-drawn on a whiteboard, and a format referred to as the "Zen" presentation because it relies on a metaphorical image with a few key words.
Even if you flunked art in grade school, those hand-drawn figures are more memorable. On average, the whiteboard message had 8 percent more impact—as measured by recall, presentation quality, credibility and engagement—over the other methods.

If you're in sales, or for that matter any position that relies heavily on presentations, you may want to start drawing your own images—that is, if you want people to remember your ideas.
Before it's here, it's on the Bloomberg Terminal.
LEARN MORE