In China, Red Tourism Stages a Comeback
Historical sites of the revolution are flooded by Chinese tourists
By and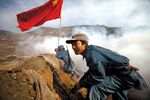 Ear-splitting explosions go off and plumes of gray smoke drift over the arid Shaanxi countryside of northwestern China. Ragtag Communist soldiers in blue uniforms fire their rifles at an advancing Nationalist tank while villagers run for cover. Finally, justice prevails; the red flag of the Chinese Communist Party is held proudly aloft while peasants dance in celebration.
It's a scene repeated every day at 11 a.m. as 350 actors reenact the "Defense of Yan'an," a famous battle against the Nationalist forces of Generalissimo Chiang Kai-shek that was crucial to the founding of the People's Republic in 1949. "By coming here we can understand how the party sacrificed, created the new China, and built such a beautiful country for us," says 13-year-old Deng Yi, visiting from Wenzhou, who along with his mother and father, each shelled out 150 yuan ($24) to watch the show.
That's what China's leaders want to hear as they expand "red tourism" in more than 100 sites across China. Their goal: to boost patriotism and support for the Chinese Communist Party. "We need to seize these two concepts—red bases and patriotic education on the one hand and developing red tourism on the other," said President Xi Jinping in March.
Red tourism is not new to China. Millions flocked to red sites including Mao Zedong's birthplace in Shaoshan, Hunan province, during the Cultural Revolution from 1966 to 1976. Visits to revolutionary locales spiked in 2011, as China prepared to celebrate the party's 90th anniversary. If China's leaders have their way, red tourism will have a massive renaissance. Already last year, 786 million tourists visited revolutionary sites, up 17.3 percent from the previous year, generating 198.6 billion yuan ($32 billion) in revenue, up 19.1 percent, according to the National Tourism Administration.
One of the most popular is Yan'an, the "cradle of the revolution" where Mao, General Zhu De, and other revolutionaries spent more than a decade living in caves starting in 1936. It's also where President Xi, while a teenager, spent seven years among the peasants during the Cultural Revolution. Jinggangshan, in Jiangxi province, where the rebels hid out in the late 1920s and early 1930s, and Zunyi, in Guizhou province, a key stop on the Long March, are also top destinations.
To prepare for the onslaught of photo-snapping fellow travelers, China's Ministry of Civil Affairs last year spent 2.8 billion yuan on constructing memorials, while the state bureau in charge of cultural relics earmarked 487 million yuan for renovating red sites. Another 1.5 billion yuan was spent on 66 "red tourism highways" across the country.
"We hope to teach the next generation about what happened before," says Hong Jiasheng, chairman of Yan'an Shengdian Red Tourism Development, which is run jointly with the local government and draws 500,000 tourists annually. An entrepreneur from Zhejiang province, Hong launched on July 6 a similar show in Fushun, Liaoning province, reenacting an important 1948 battle.
The push to develop red tourism is part of a larger campaign launched in December to instill citizens with what Xi calls core socialist values aimed at realizing the "Chinese Dream." Those include patriotism, dedication, civility, and harmony. The values campaign will expand patriotic education in primary and middle schools, with university students encouraged to go on organized weeklong summer visits to red sites. Since China's opening to the world, "Chinese have embraced diversified thoughts, including the decayed, outdated ideals of mammonism and extreme individualism," the People's Daily said in a February editorial.
"We all have read about this in our textbooks but you need to see it for yourself," says 43-year-old Wu Kunliang, an engineer for Cisco Systems in Beijing, while on a visit with his family to Yan'an. "Mao said the people must have spirit. Coming here helps one understand China's red spirit."
Xi hopes red tourism can also help bolster the party's legitimacy as his anti-graft campaign uncovers corruption among senior party officials, according to Willy Lam, an expert on Chinese politics at the Chinese University of Hong Kong. Xi "is a natural believer in many of the values of Mao Zedong, but it is also political expediency," says Lam. "Associating himself with Mao and his values is a way to strengthen his authority."
BOTTOM LINE -
The bottom line: Last year, China spent 2.8 billion yuan on building revolutionary memorials to rekindle patriotic tourism.
Before it's here, it's on the Bloomberg Terminal.
LEARN MORE