Rand Paul and Cory Booker Team Up to Fight For Justice (Reform)
By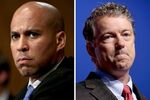 Rand Paul and Cory Booker, two celebrity senators who draw a lot of attention, are teaming up to push an issue that doesn't: Criminal justice reform.
On Tuesday, the Kentucky Republican and the New Jersey Democrat—first-term senators with larger ambitions—said they plan to introduce what they call the REDEEM Act. That's short for Record Expungement Designed to Enhance Employment. The bill would ban solitary confinement for most juvenile offenders; make it easier to get non-violent crimes sealed or expunged from ex-offenders' records; and give states incentives to stop trying teenagers under 18 as adults.
The bipartisan pair would also reverse one restriction from the welfare reform bill signed by Bill Clinton in 1996: The REDEEM ACT would end the ban on welfare and food stamp benefits for those with low-level drug convictions. In a statement, Paul called a criminal record "the biggest impediment to civil rights and employment in our country." Booker added that the bill would "help make it less likely that low-level adult offenders re-offend."
It's not the first time they've cooperated. Last month, the two senators offered an appropriations amendment that would ban the Department of Justice from spending funds on fighting medical marijuana in states where it's legal. The Booker-Paul amendment so far hasn't come to a vote because the appropriations bill got pulled from the floor, but a similar bipartisan amendment passed in the House.
Ethan Nadelmann, the founder and long-time director of the Drug Policy Alliance, argues that the introduction of Booker and Paul's bill is evidence of a marked shift in the politics of crime and incarceration on the right. At this year's Conservative Political Action Conference, Americans for Tax Reform President Grover Norquist, Texas Governor Rick Perry, and former New York Police Commissioner Bernard Kerik made the conservative case for sentencing reform at a panel discussion. "It means," says Nadelmann, "that many of the liberals and Democrats who traditionally have supported sentencing reform no longer to fear so much the attack from the right."
Before it's here, it's on the Bloomberg Terminal.
LEARN MORE