Obama Sanction Vows Against Russia Scoffed At in Congress
Nicole Gaouette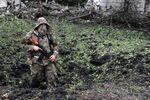 Warnings from U.S. officials that Russia faces the risk of additional sanctions if it doesn't stop interfering in eastern Ukraine were mocked by lawmakers who said President Barack Obama's administration has failed to deliver.
"Sometimes I'm embarrassed for you, as you constantly talk about sanctions and yet, candidly, we never see them put in place," Senator Bob Corker of Tennessee, the top Republican on the Senate Foreign Relations Committee, told administration officials testifying before the panel today. "I really feel like the sanctions threats have been very hollow."
The committee met as Ukraine's military pressed its offensive against pro-Russian militants in the eastern part of the country. In almost three months since Ukraine's new government formed, clashes have killed more than 400 in the region, and tensions have increased as Russia has moved to cut off gas supplies to Ukraine and move tanks closer to the border.
Assistant Secretary of State Victoria Nuland testified that the U.S. and European Union haven't seen Russia act on calls to end support for separatists, control its border with Ukraine, help establish international monitoring of the violence, and encourage separatists to release hostages.
"Russia has made too many commitments at the diplomatic table over the past four months that have been rendered hollow by the weapons, cash and fighters that continue to flow across the border to fuel the fight in eastern Ukraine," Nuland said.
U.S. 'Ready'
Saying that the U.S. "will judge Russia by its actions, not its words," Nuland said "we are ready to impose more costs, including targeted sector sanctions, very soon if Russia does not change course."
The panel chairman, Democratic Senator Robert Menendez of New Jersey, pushed Nuland to explain why further sanctions haven't been applied already.
"What are we waiting for?" Menendez asked. "I don't get it, and I don't know how much longer some of us will be willing to wait."
The U.S. has ceased virtually all military and economic cooperation with Russia, Nuland said. It has imposed travel bans and asset freezes on Russian elites, established export restrictions, and sanctioned banks, construction companies, and other Russian companies tied to members of the country's leadership.
Asset Freezes
A Treasury Department official told Menendez that the administration thought it important to coordinate further sanctions with Europe, which has been slowed by the EU's need for unanimous agreement on any measures. While the EU has placed asset freezes and travel bans on 61 people, Italy, Austria, Slovakia, France and Greece have objected to adding further measures.
"We'll obviously be more powerful politically and both as a practical matter if we move together with the European Union," Assistant Secretary Daniel Glaser said.
Despite European reluctance to move forward, Nuland said that based on her hours of consultations with Europeans, she believes that if Russia doesn't stop rearming separatists and supporting them financially, Europe will decide to go forward.
"It may not be completely parallel to everything we want to do, but this is a process that is moving forward," Nuland said. "Everybody wants to get back to a place where there are civilized relations between Russia and Ukraine so we have to make it cost."
Before it's here, it's on the Bloomberg Terminal.
LEARN MORE