India Bulls Unshaken by Selloff as Modi Budget Beckons
Santanu Chakraborty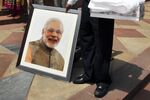 India's biggest stock selloff in 10 months has done nothing to shake the resolve of bulls in the options market, who say shares will rally as Prime Minister Narendra Modi outlines plans to strengthen the economy.
The cost of bullish calls on the nation's CNX Nifty Index rose yesterday, while puts dropped, even as the equity gauge sank 2.1 percent in the biggest retreat since Sept. 3. The gap between bullish and bearish contracts, a gauge of investor demand for protection against losses, fell to 1.1 points, near the record low of 0.67 reached on June 26, according to data compiled by Bloomberg.
Indian stocks have added $206 billion of market value since Modi led his party to the biggest election victory in three decades in May, pledging to encourage foreign investment, create manufacturing jobs and simplify the tax regime. While the rally lifted valuations to the highest levels since 2011, Modi's first budget due tomorrow may unveil more detailed plans to boost economic growth from near the weakest pace in a decade.
"The path to economic reforms won't be easy, but investors feel that the budget will create a positive first impression," R.K. Gupta, managing director of New Delhi-based Taurus Asset Management Co., which oversees about $686 million, said in a phone interview yesterday. "That optimism is helping them to keep their options positions even as they sell stocks."
Nifty Record
The Nifty gauge, which includes Infosys Ltd. and HDFC Bank Ltd., climbed to a record on July 7 after global investors bought $10.8 billion of shares this year, the most in Asia after Taiwan, data compiled by Bloomberg show. The index is up 20 percent this year through today's close, the biggest rally among equity gauges in the world's 30 biggest markets. The index slipped 0.5 percent at the close in Mumbai.
The most-owned contract on the Nifty as of yesterday was a July 8,000 call, which has an exercise level 4.9 percent above yesterday's close, according to data compiled by Bloomberg. The number of outstanding calls on the index is about 1.4 times greater than puts, versus a ratio of 1.2 at the end of last year.
"Traders are pricing in a clearer roadmap for meaningful policy changes to boost investments in the budget," Jan Dehn, the London-based head of research at Ashmore Group Plc, which oversees about $70 billion, said in a phone interview on July 4. "The next wave of fund flows will come after the government delivers something concrete."
High Valuation
The Nifty's valuation reached 15.4 times estimated 12-month earnings on July 7, the highest level since April 2011. That compares with 11.1 for the MSCI Emerging Markets Index.
Indian Finance Minister Arun Jaitley faces the challenge of narrowing one of Asia's widest fiscal deficits. Stocks have rallied this year even as a weaker-than-normal monsoon and surging oil prices threaten to sap revenues and inflate a subsidy bill that has grown fivefold over the past decade. If the budget disappoints, shares may drop, according to Paras Bothra, vice president for equity research at Ashika Stock Broking Ltd.
"The budget expectations are quite high, and the market has rallied a lot," Bothra said in a phone interview from Mumbai. "If they don't deliver, there can be downside for stocks. We expect India VIX to rise before the budget."
The India VIX, a gauge of Nifty options costs, fell 1.2 percent yesterday to 19.18 after a three-day gain of 10 percent. The VStoxx Index, which tracks the cost of protecting against swings on the Euro Stoxx 50 Index, jumped 11 percent to 15.89. The Chicago Board Options Exchange Volatility Index, a measure of volatility expectations for the S&P 500, added 5.7 percent to 11.98.
5% Rally
Indian shares may rally 3 percent to 5 percent if the budget includes measures such as a phased reduction in subsidies, along with lower taxes on income, savings and mortgages, Citigroup Inc. analysts led by Aditya Narain wrote in a report on July 2.
The budget will probably outline steps to re-capitalize banks, lower subsidies on fuel and streamline project clearances, Morgan Stanley wrote in a June 24 report. Those measures would boost energy, financial, telecommunications, metal, mining and utility stocks, according to the New York-based bank.
"A bad budget can melt the markets but that probability seems low," A.S. Thiyaga Rajan, a senior managing director at Aquarius Investment Advisors Pte., which oversees $400 million, said in a phone interview from Singapore yesterday. "A big bang-budget can push stocks up by another 10 percent to 15 percent."
Before it's here, it's on the Bloomberg Terminal.
LEARN MORE