Jefferies CEO Warns of 'Bad Behaviors' Returning
Elizabeth Dexheimer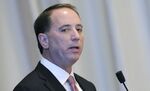 Bankers and investors need to ensure they don't repeat "bad behaviors" that contributed to the credit crisis as the financial-services industry embraces greater risk, said Richard Handler, chief executive officer of Jefferies Group LLC.
"People who take short cuts, are political, prioritize themselves above others, take excessive risks for personal gain, don't value capital, or are unethical are outright cancers," Handler, 53, also CEO of Jefferies's parent company, Leucadia National Corp., said in his quarterly letter to clients. "These types of people will not only flourish in the next crisis, but most probably they will cause it."
Almost seven years after a housing bubble triggered the worst financial crisis since the Great Depression, lawmakers continue to urge the biggest U.S. banks to reduce leverage and risk-taking. President Obama said on July 3 that the bonus-driven culture of Wall Street trading desks still encourages risky behavior and that his administration will look at "additional steps" to rein it in.
Bankers need to surround themselves with partners who help them "restack the common-sense walls," and a culture that's transparent and honest, Handler said. While leverage can be useful, it's easy to get "lulled into a false sense of purpose" at a time when the industry is starved for yield, Handler said.
Eyes Open
"We all may want to have our eyes wide open regarding the risk that is clearly starting to make its way back into our system," Handler said. While leverage "does an incredible job of amplifying the good, it does not know its master and is equally capable of magnifying the bad."
Still, the increased leverage and rising amount of risk doesn't mean "we should brace ourselves for an imminent crisis," Handler wrote.
"There are many fundamentals in the world today that we find better underpin the valuations that are now prevalent, relative to the false sense of security many of us felt before the summer of 2007," he said.
Leucadia, which owns businesses from meatpacking to investment banking, also named Teresa Gendron as chief financial officer today to replace Joseph Orlando.
Orlando is retiring for "orthopedic health reasons," the New York-based company said in a statement. Gendron, who takes the post Sept. 1, was most recently vice president and controller of Gannet Co., according to the statement.
Leucadia slid 1.5 percent to $25.26 at 10:41 a.m. in New York. The shares have declined 11 percent this year, compared with the 4.1 percent advance of the Standard & Poor's 500 Financials Index.
Before it's here, it's on the Bloomberg Terminal.
LEARN MORE