Why Does Asia Call Hurricanes Typhoons?
By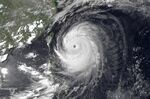 Or, why do Americans call typhoons hurricanes?
Either way, they're the same thing.
Tropical cyclones are "hurricanes" in the Atlantic and northeastern Pacific and "typhoons" in the western Pacific and Indian oceans.
No mystery here, or conspiracy. People who speak different languages have different words for things, it turns out. As Steve Martin once put it, "Boy, those French: They have a different word for everything!"
Spanish explorers probably coined "hurricane" when they came to Central America and were warned of "an evil god of winds and destruction, variously called Huracan, Hunraken, or Jurakan in the Caribbean and Mexico," wrote MIT professor Kerry Emanuel in his 2005 book, Divine Wind: The History and Science of Hurricanes.
The history of "typhoon" is dicier, probably coming from the Chinese jufeng, which first appeared in a book written about 470 AD, according to Emanuel. It might also come from Typhon, a Greek god of evil winds.
"Hurricane" once had a mildly entertaining secondary meaning, according to the Oxford English Dictionary, a large party of fancy people at a private house, common in the 18th century. Or as in a 1746 example of the usage, "A confused meeting of Company of both Sexes on Sunday is called a Hurricane."
More by Eric Roston (@eroston on Twitter)
Visit The Grid for the latest about energy, natural resources and global business.