Man vs. Social Media: Travel Channel's Adam Richman in TV Personality Purgatory
by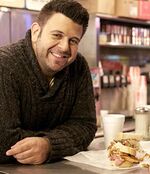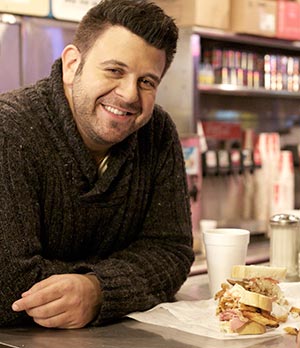 Adam Richman launched his TV career by eating a huge portion of corned beef. Now to save his TV career, he's going to have to eat a huge pile of crow.
Richman has emerged as the latest celebrity to land his career in jeopardy thanks to some miserable judgment on social media. He posted a picture of himself on Instagram, bragging about his recent weight loss and including the hashtag #thinspiration. Some commenters criticized Richman for using the term, suggesting that it's popular in the "pro-anorexia" community and used to encourage unhealthy behavior. Richman responded profanely in a series of outbursts, and recommended that one of his critics commit suicide.
All in all, not the best career move. As a result, Richman now finds himself stuck in a state of TV-personality purgatory, hoping that a few convincing acts of public remorse, self-flagellation, and apology will be enough to persuade his media and endorsement partners not to drop him in the face of public anger.
The key to Richman's self-preservation will be holding onto his all-important perch at the Travel Channel. It was the Travel Channel, after all, that first catapulted him out of obscurity by casting him as the host of the surprisingly popular show Man v. Food. And it's the Travel Channel from which all of Richman's valuable fan base ultimately stems.
One potential problem for Richman is that the majority owner of the Travel Channel is Scripps Networks Interactive. The company also owns the Food Network, and just last year had to weather a storm of public outrage due to controversial comments made by Paula Deen. The Food Network ultimately dropped Deen, which proved to be a disastrous blow to the celebrity chef, who was soon abandoned by a cascade of endorsement partners.
It's exactly the kind of chain reaction that Richman undoubtedly hopes to avoid. His most important endorsement deal is pitching meat for Wal-Mart Stores—another company that dumped Deen in the midst of her controversy. On the plus side for Richman, however, the Food Network has suffered through a bit of a rough patch since dumping Deen, which might give Scripps executives second thoughts about walking away from another one of their stars.
Last week the Travel Channel announced it would indefinitely postpone the premier of Richman's new show, Man Finds Food, which was set to make its debut on July 2. A spokesperson for the network declined to comment.
While Richman hasn't yet granted any interviews, he has released a statement to ABC News apologizing for his "inexcusable remarks." He added: "I've long struggled with my body image and have worked very hard to achieve a healthy weight."
Allen Adamson, chairman of the North America region at Landor Associates, says that the more polarizing or socially unacceptable the comment, the longer it takes a celebrity to rehabilitate themselves. In general, weight-related controversies tend to be easier to overcome than, say, race-related ones. "I don't think this is debilitating," says Adamson. "He'll survive this. He didn't touch the third rail—race or prejudice."
In the weeks ahead, expect Richman to ramp up the public contrition. "He needs to make a very focused and sincere effort to throw water on this fire," says Adamson. "If he ignores the problem, it will just continue to grow."
Before it's here, it's on the Bloomberg Terminal.
LEARN MORE