World Cup Viewership Sets U.S. Records With Americans Out
Mason Levinson and Alan Ohnsman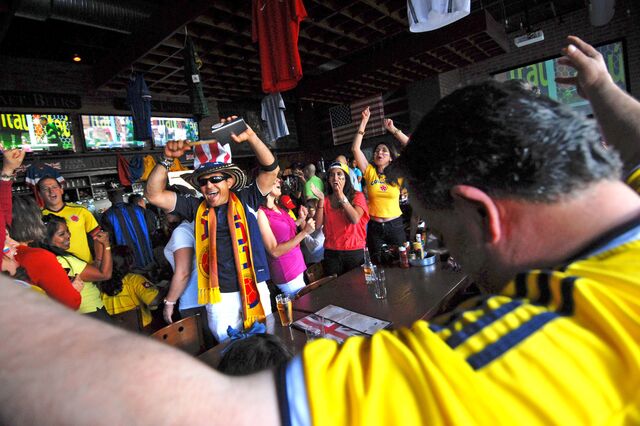 The first two World Cup quarterfinals averaged more than 5 million U.S. television viewers, with Brazil's defeat of Colombia setting a record for American viewership of that stage of the tournament.
Germany's 1-0 win over France, which began at noon New York time yesterday, was seen in an average of 2.9 percent of U.S. homes, or 4.9 million viewers, Walt Disney Co.'s ESPN sports channel said on its website. The second game, in which tournament host Brazil beat Colombia 2-1, drew a 3.6 rating and 6.3 million viewers. That topped a previous record for a quarterfinal of 5.7 million people who watched Argentina and Germany play in South Africa in July 2010.
Argentina defeated Belgium 1-0 in the first of two other quarterfinals today, and the Netherlands defeated Costa Rica in a penalty shootout to advance to the semifinals.
The U.S.'s 2-1 loss to Belgium in the round of 16 on July 1, late afternoon on a Tuesday, drew 21.6 million viewers, 16.5 million on ESPN and 5.1 million on Univision, the second-highest total for a men's soccer telecast in U.S. history. It trailed only the U.S. team's 2-2 tie with Portugal on Sunday, June 22, which averaged 24.7 million viewers -- 18.2 million on ESPN and 6.5 on Univision.
With ratings data from Nielsen Media Research focusing on homes rather than offices, bars or outdoor venues, weekday telecasts general draw fewer recorded viewers than those on weekends.
In comparison, the opening weekend of the National Football League's playoffs last season averaged 34.7 million viewers for four games.
Before it's here, it's on the Bloomberg Terminal.
LEARN MORE