Orange CEO Urges Rivals to Engage in M&A as Prices Hit Lows
Francois de Beaupuy, Caroline Connan and Marie Mawad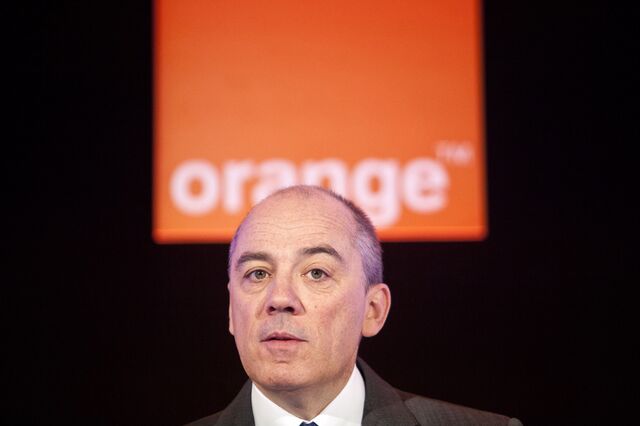 Orange SA Chief Executive Officer Stephane Richard says his rivals' low-tariff tactics are no longer enough to steal market share in France, and he won't be a leader in mergers and acquisitions meant to end a three-year price war.
Bouygues SA, Iliad SA and SFR should take the lead on consolidating the wireless market, though Orange is willing to take part, Richard said in a Bloomberg Television interview in Aix-en-Provence. Richard sees wireless phone bills hitting their lowest and predicts fixed business customers will prove less prone to switching providers based only on price.
"Orange wasn't the best placed to play this consolidation -- we're the largest operator, and we're probably not the one that needs this consolidation most," Richard said. "I'm ready to come back to the negotiations, but not as the forerunner."
Returning from four to three operators would benefit the French telecommunications industry and encourage carriers to invest more in infrastructure, reflecting a broader move to consolidate among phone companies in Europe, Richard said. Orange is also seeking opportunities to strengthen its positions in Spain, Poland, Romania and Belgium, though there are no talks at this point, he said.
To stem a decline in landline and wireless service revenue, phone and cable carriers across Europe are pursuing a flurry of mergers and acquisitions. Telefonica SA last week got clearance for its 8.55 billion-euro ($11.6 billion) acquisition of Royal KPN NV's E-Plus unit in Germany, a regulatory decision that may provide impulse for a new round of mergers and acquisitions.
European Trend
Shares of Orange gained 0.04 percent to 11.46 euros at 10:53 a.m. in Paris. The stock has gained about 27 percent this year, the biggest increase on France's CAC 40 index.
The Paris-based operator so far has expanded through acquisitions in countries from Spain to Egypt, as well as a less costly strategy in places like Italy and South Africa, where investments are limited to a few well-situated shops -- in airports for example -- and online stores. Orange is today starting websites in the U.S. and Mexico to sell phones, accessories and French SIM cards to travelers.
Talks for potential tie-ups have heated in France since Vivendi SA agreed in April to sell SFR, Orange's largest rival, leaving the country with four phone companies after years of falling prices. Iliad entered the market in January 2012 by selling discounted phone packages, prompting a price war.
Profitability Slides
Orange's main measure of profitability -- restated Ebitda - - fell to 30.8 percent of sales in the first quarter this year, compared with 33.3 percent in the same period in 2011, before carriers started slashing prices to anticipate Iliad's entry into the mobile market. Orange is 27 percent owned by the French state and makes about half its sales at home.
"The French market has not the critical size to support four operators, full operators fixed and mobile," Richard said. "I definitely believe that one day we will probably switch from four to three, as it's going to be the case in Germany, in Ireland, or maybe in other European countries."
Talks with Bouygues Telecom and Iliad failed, mainly because of disagreements on price and some concerns about antitrust hurdles. Bouygues Telecom, France's third-largest mobile operator, was looking for a buyer as profitability and cash generation declined, before revealing last month plans to eliminate 17 percent of its workforce.
That prompted French Economy Minister Arnaud Montebourg to call on carriers to return to negotiations to consolidate. Montebourg is among politicians and executives who fear that low-cost pricing will spread from the wireless segment into fixed-line packages of phone, television and high-speed Internet, threatening margins and jobs in the industry.
Cutting Price
Bouygues Telecom cut the price of more of its packages last month after it said that cheaper fixed offers helped its sales in the second quarter.
Richard said wireless phone bills in France have fallen about 40 percent, too low for discounters to battle further on price as margins are squeezed. Customers in the fixed business tend to switch providers less, which means prices are less prone to fall. Technological differences between set-top boxes and a variety of television packages help keep subscribers loyal, he said.
"Between Bouygues, Iliad and SFR-Numericable, we still have room to see some maneuver," Richard said. "I hope that this will happen and we are still ready to take a part in this game of consolidation, because it's a necessary move for the consumers, for investment and for the country."
Before it's here, it's on the Bloomberg Terminal.
LEARN MORE