Sony Bets It Can Find the Next Big Thing
The company's skunkworks is engaged in dozens of projects
By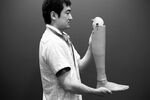 Sony is heading toward its sixth annual net loss in seven years. Its top executives have returned their bonuses because of the lackluster performance. But the Japanese electronics maker is continuing to increase its spending on research and development, to 485 billion yen ($4.78 billion) this fiscal year, a 4 percent rise from the previous year. "Although the company's financial results have fluctuated during the recent years, our stance to spend a certain percentage of the revenue for R&D has not changed," says spokeswoman Saori Takahashi.
Some of that money (the company wouldn't say how much) goes to fund the dozens of high-concept projects at Sony Computer Science Laboratories (CSL), a small research arm created in 1988 and housed mostly in a rented two-floor office near Sony's Tokyo headquarters. Its recent prototypes have included a portable computer that can bend like gummi candy, glasses that annotate the objects the wearer is looking at, and a refrigerator with facial recognition capabilities that only opens for a smile. Researcher Ken Endo is testing prototype prosthetic legs, powered by a rechargeable battery the size of a matchbox, that he hopes will one day propel a person faster than natural limbs. His goal, inspired by his best friend's amputation because of bone cancer, is to see "Paralympics athletes run faster than the Olympic champion in 2020," he says.
With the company desperate for a megahit on the order of 1979's Walkman, CSL has become an increasingly popular destination for executives seeking ideas, including Sony Chief Executive Officer Kazuo Hirai, who visited last summer. However, the projects at CSL often take a decade of development or more before they're ready for the market. In March the company demonstrated SmartSkin, a dining table that turns into a touchscreen to display family photos or allow cooks to take recipe notes; the table was the brainchild of CSL Tokyo's deputy director, Jun Rekimoto, who first conceived it in 2001. "Sony CSL is developing technologies to be used in the future world," says Yoko Honjo, a spokeswoman for the research arm. Says Endo, "You don't need to worry about meeting sales targets set by Sony business units." In his spare time, Endo has founded a prosthetics company called Xiborg to test some of his technology. (Sony retains the patents.)
Every so often, the wait has been worth it; noteworthy CSL products include behavior recognition sensors and near field communication. The current hope is the SmartBand , a wristband developed from CSL research that Sony started selling in March. Like Fitbit, Jawbone's Up, and Nike's FuelBand, the SmartBand monitors a wearer's physical activity. It can also link to a smartphone to track how long the wearer spends playing games or browsing the Web. The inspiration, Sony says, came from former researcher Brian Clarkson, who in 2001 used a backpack full of sensors to track all his movements for 100 days.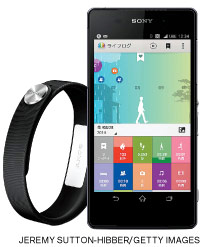 The SmartBand has received decent reviews, but it has to face off against well-established, less complex rivals, says Daniel Matte, an analyst at market researcher Canalys. He says the product feels a little rushed and that its aggressive monitoring may be a turnoff to consumers worried about their electronic privacy. "I'm not sure it's showing the direction the market is going," Matte says. "The key is not to provide tracking but to provide insights and analysis of the data, giving users actionable advice." Canalys estimates that Fitbit accounted for about half of the world's 2.7 million digital wristbands shipped in the first quarter. Sony declined to release early sales figures for the SmartBand, and spokeswoman Noriko Shoji only says that "in general, it is selling better than we have expected so far."
Atul Goyal, an analyst at Jefferies Securities, says that given the return on investment, "Sony's R&D appears rather inefficient." He cites the company's development of a so-called smart wig, which vibrates to alert wearers to check their GPS for new driving directions, as a particularly egregious example, adding, "We don't know how many such seemingly irrelevant projects are being funded and for how long." Says Shoji, the company spokeswoman, "R&D results cannot be measured easily. One technology can be applied to many products."
Before it's here, it's on the Bloomberg Terminal.
LEARN MORE