Russia Uses Sberbank to Flex Its Financial Muscle
Sberbank lends readily in the old Warsaw Pact nations
By and
A quarter century ago, when communist regimes in central and eastern Europe tumbled one after another, the economically devastated Soviet Union could do nothing but watch. The USSR fell apart, and the eastern Europeans rushed to join the North Atlantic Treaty Organization and the European Union. Russia never gave up on its former sphere of influence. Now, instead of sending troops, it is building a web of economic ties with its old satellites.
Whether it's bankrolling a Hungarian nuclear power plant or the construction of the South Stream pipeline in Bulgaria, Russian money is buying leverage in eastern Europe. Much of the region finds it increasingly counterproductive to act against Russia's interests, even as the nation tangles with Ukraine. Hungarian, Slovak, and Czech politicians have openly opposed stricter EU sanctions against Russia, arguing their economies would bear a higher burden than their neighbors to the west.
"The Russians are playing a classic game of divide and conquer with the EU," says Otilia Dhand, an analyst with political risk adviser Teneo Intelligence. "They're making sure that the national interests of individual members have bigger weight in their decision-making than the common EU interest."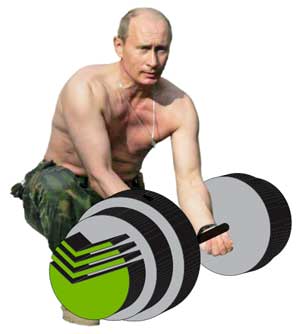 One of Russia's main weapons is Sberbank, its largest state-controlled lender. In the past few years, with almost €12 billion ($16 billion) in assets, Sberbank Europe has built a strong presence in central Europe and the Balkans. Besides expanding its branch network, it's providing hefty loans to companies in former communist Europe. In April the bank agreed to lend $820 million to Agrokor, a Croatian company, for the acquisition of Slovenia's Mercator, a deal that will create the top food retailer in the Balkans.
Russia's main focus is energy. Early this year it agreed with Hungary to build two nuclear reactors. To fund the project, the Kremlin offered the Hungarians as much as €10 billion in a 30-year loan at below-market rates—conditions no western European commercial bank could match.
In June, Sberbank announced it would provide a $1.2 billion credit line to Slovenske Elektrarne, the power company controlled by Italian utility Enel. Enel's Slovak unit has been struggling to finish the country's Soviet-designed Mochovce nuclear power plant. Enel Chief Executive Officer Francesco Starace has said his company is considering selling its Slovak operations as part of its program to reduce debt. According to Slovak and Russian media reports, Russia's state nuclear agency Rosatom is among the potential buyers. Enel declined to comment.
Russia's policy of generous loans is "a concerted effort to gain economic and geopolitical influence and clout, and arguably that policy has been pretty successful," says Timothy Ash, chief economist at Standard Bank Group in London. "Small countries like Hungary, Slovakia, or Serbia need foreign investment. Money talks." Eastern Europeans are hardly alone in looking after their own economic interests, Ash says. France was criticized by the U.S. and its EU counterparts in May after it decided to push ahead with the sale of two Mistral helicopter carriers to Russia; Italy and Austria have declared their support for Gazprom's South Stream pipeline project, designed to bring natural gas to Europe while bypassing Ukraine.
This willingness to accept Russian money doesn't sit well with Poland and the Baltic nations of Estonia, Latvia, and Lithuania, the only ex-communist EU countries sharing a border with Russia. Unlike their central European peers, they want tougher sanctions against Moscow and more NATO troops in their territories.
The Czechs, Slovaks, and Hungarians say there's no need for NATO soldiers on their soil. They stress the importance of business ties with Sberbank and other Russian companies. These nations are pursuing "opportunistic policies toward Russia during the Ukrainian crisis," says Jiri Pehe, director of New York University in Prague and former adviser to late Czech President Vaclav Havel.
Opportunism is exactly what Russia is counting on, according to Dhand of Teneo Intelligence. That's why it pays for Russia to build economic ties with European countries that are poorer and smaller than the rest but still have a voice in EU affairs. "For Russians, it's about effectiveness," she says. "They invest a billion dollars in a small country like Slovakia, and the country is bought. It's a completely rational business decision."
BOTTOM LINE -
The bottom line: By using Sberbank as a source of loans in eastern Europe, the Kremlin is quietly exerting its influence again.
Before it's here, it's on the Bloomberg Terminal.
LEARN MORE