Lindsay Lohan Sues the Makers of Grand Theft Auto V, Claiming They Used Her Image
By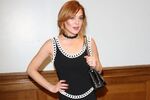 Actress Lindsay Lohan has never shied from free publicity. She's hoping, however, that a judge will award her payment from the creator and publisher of blockbuster video game Grand Theft Auto V, which she accuses in a new lawsuit of unlawfully profiting from her likeness.
The Mean Girls star sued game developer Rockstar Games and publisher Take-Two Interactive Software for using her image, voice, and events from her life in developing the "Lacey Jonas" side mission in Grand Theft Auto V, which was released in September.
Lacey Jonas is an anorexic celebrity who enlists players for help dodging paparazzi in a race throughout Hollywood. According to Lohan's complaint, the game uses Lohan's clothing, outfits, sunglasses, and even jean shorts she wore at least two years before the release of the video. It also features the Chateau Marmont hotel in West Hollywood, "a place where the Plaintiff once lived and often frequents," the suit notes.
Alan Lewis, a spokesman for Take-Two, declined to comment on the suit.
Grand Theft Auto V was the best-selling console video game in North America, Latin America, and Europe last year, shipping more than 33 million copies and helping to boost fourth-quarter profit for Take-Two Interactive, the company said when it reported earnings in May.
The Lacey Jonas story line in Grand Theft Auto V is "substantially similar to places, locations and events in Plaintiff's life making it unequivocal that the Plaintiff was the intended referent in the mission," Lohan's lawsuit says. Moreover, Take-Two Interactive and the game developers announced Lohan's name as the celebrity look-a-like a few months before the game was released to boost sales, the lawsuit says.
Lohan says the matter has caused her "irreparable hardship." She's seeking punitive damages and a court order barring them from further using her image. She also asked the court to take into consideration the amount of profit the game's developers and publishers derived from the "unlawful acts" of using her name, likeness, and voice in awarding a final judgment. The blockbuster video game exceeded $1 billion in sales in the first three days after its release.
Grand Theft Auto V, a fantasy of thug life in Southern California, reached the mark sooner than any other entertainment property, New York-based Take-Two said in September. Call of Duty: Black Ops II, from Activision Blizzard, took 15 days in 2012 to eclipse $1 billion in sales, while Marvel Entertainment's movie The Avengers made it in 19 days.
It's not the first time a celebrity has accused gamers of using their likeness without permission. Ellen Page alleged last year that the makers of The Last of Us used her image as a basis for the character Ellie. A group of college athletes won a $40 million settlement earlier this year from Electronic Arts and Collegiate Licensing after they sued over the use of their likenesses in NCAA-branded video games. The players' case against the NCAA is still pending.
Before it's here, it's on the Bloomberg Terminal.
LEARN MORE