Indonesia's Election Has Investors on Edge
A victory by the Establishment candidate could trigger a selloff
By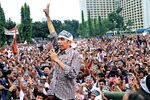 Indonesia's presidential vote on July 9 was supposed to play out like India's recent national elections. Just as Indians fed up with their country's ruling class delivered a landslide victory to Narendra Modi, a probusiness governor whose father manned a tea stall at a train station, Indonesians would embrace Joko Widodo , who as governor of Jakarta has built a reputation as a humble man in touch with the masses. That, at least, was the outcome presaged by opinion polls, which at one point had Widodo, who's better known by his nickname Jokowi, with a 40-point lead over the Establishment candidate, Prabowo Subianto, a former general who was once married to the daughter of Suharto, the strongman who ruled Indonesia for more than three decades.
It may be time to rewrite the script. With just days to go before the vote, Jokowi's big lead has evaporated, and the race between him and Prabowo is too close to call. The latter has benefited from his association with Aburizal Bakrie, the chairman of Suharto's Golkar Party and patriarch of the family-controlled group that owns one of the country's largest television networks. Also in Prabowo's corner is Hary Tanoesoedibjo, the chief executive officer of Media Nusantara Citra. The two companies together command 34 percent of the country's TV viewership, according to Deutsche Bank. Plus, Prabowo has the endorsement of pop singer Rhoma Irama, known as Indonesia's Elvis.
Whoever wins the election will inherit an economy plagued by corruption. Indonesia ranked 114 out of the 177 countries in Transparency International's 2013 corruption perception index. On June 30 the former chief judge of its constitutional court received a life sentence after being convicted of taking more than $3 million in bribes.
The economy is also feeling the effects of the end of a China-fueled commodity boom. Indonesia's top three exports are coal, gas, and palm oil. The value of overall shipments was down 8.1 percent in May from the year before. Exporters are also suffering from an Indonesian policy that went into effect in January restricting overseas shipments of unprocessed mineral ores. While the goal of the measure is to encourage investment in local processing facilities, the World Bank estimates it will deprive the government of $6.5 billion in revenue through 2017. Nevertheless, both candidates support keeping the curbs in place.
After growth came in at just 5.2 percent in the first quarter, the worst performance since 2009, the outgoing government of President Susilo Bambang Yudhoyono revised its full-year forecast to 5.5 percent, down from 6 percent. "The economy is clearly under downward pressure," says Toru Nishihama, an emerging-market economist with Dai-ichi Life Research Institute in Tokyo.
Expectations that a Jokowi victory would cut red tape and corruption sparked a rally in Indonesian stocks in March. In contrast, Morgan Stanley forecasts that a Prabowo win could drive the rupiah to a five-year low of 12,300 to the dollar, eroding gains for investors who have pumped $6 billion into Indonesia's debt and equity markets this year. One reason: The ex-general has argued that Indonesia is "underleveraged" and can afford to take on more debt. And in a presidential debate last month, he said he'd be open to renegotiating contracts with foreign companies so the state can get better terms. If Prabowo prevails, "we could see a knee jerk in the market, as this outcome is still not widely expected," says Wai Ho Leong, a Singapore-based economist at Barclays, though he added that "some foreign investors may return if the Prabowo cabinet lineup is pragmatic and if he retains good performers or proven performers in the key ministries."
Foreign investors "are placing far too much hope in Jokowi as some sort of charismatic, pro-Western, free-market liberalizer with the nationwide support base necessary to implement reforms decisively," says Michael Kurtz, chief Asia equity strategist with Nomura in Hong Kong. Unlike India's Modi, the antiestablishment figure likely won't have a big mandate for reforms. "There is plenty of room for disappointment over time," Kurtz says. And that, foreign investors will tell you, is something Indonesia can always be counted on to deliver.
BOTTOM LINE -
The bottom line: Investors pumped $6 billion into Indonesia this year, hoping a maverick will become president.
Before it's here, it's on the Bloomberg Terminal.
LEARN MORE