Draghi Says Rates to Stay Low as ECB Prepares New Loans
Stefan Riecher and Alessandro Speciale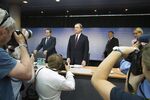 European Central Bank President Mario Draghi said he'll keep interest rates low as officials try to revive the economy with their latest emergency measures.
"The key ECB interest rates will remain at present levels for an extended period," Draghi said at a press conference in Frankfurt after policy makers left borrowing costs unchanged. "The combination of monetary policy measures decided last month has led to a further easing of the monetary policy stance. The monetary operations to take place over the coming months will add to this accommodation and will support bank lending."
Draghi is pumping cash into the 18-nation currency bloc in an effort to bolster credit supply and boost inflation that is running at about a quarter of the ECB's goal. While his comments today added details on benchmarks for linking liquidity injections to real-economy lending, doubts remain over how well the plan will work.
"One of the key questions we had going into this meeting is whether Draghi would take a tougher line on how the banks use the money" the ECB will offer them, said Marchel Alexandrovich, senior European economist at Jefferies International Ltd. in London. "At first glance, the benchmarks set are not particularly challenging."
Loan Link
Draghi estimated that banks could take up as much as 1 trillion euros ($1.36 trillion) in two initial tenders and a series of quarterly auctions under the targeted longer-term refinancing operations, known as TLTROs.
Details of the program released today showed that banks will be able to access TLTRO funding that they can hold for as long as four years if they maintain or increase the size of their loan portfolio to companies and households. Banks that are deleveraging can get the funding provided they don't accelerate the reduction in their loan book through April 2015, and keep it stable thereafter.
Draghi said he's "confident that banks will quickly understand" the details of the program. "It's also quite attractive," he said.
ECB Executive Board member Benoit Coeure said policy makers believe that "euro-area banks with strong business models will be able to make full use of the benefits of TLTROs."
The program is "particularly attractive for banks with a dynamic lending performance," he said in Berlin today.
Meeting Frequency
In addition, the ECB president announced plans to reduce the frequency of rate meetings and publish a record of the discussions. Starting in January, the central bank will announce monetary policy decisions every six weeks, compared with once a month currently. It will publish minutes, falling in line with the U.S. Federal Reserve and the Bank of Japan.
"Details on the upcoming refinancing operations and changes to the meeting schedule gave some color to an unchanged monetary-policy assessment," said Jan Von Gerich, a fixed-income strategist at Nordea Bank AB in Helsinki.
The ECB will carefully observe the effects of its latest measures and "it will take some time before the effects will fully unfold," Governing Council member Jens Weidmann, who also heads Germany's Bundesbank, said today.
'Strongly Determined'
Draghi's press conference started as U.S. data showed an improving labor market in the world's largest economy. The euro slid half a cent to as low as $1.3596.
In contrast, the single currency barely budged 45 minutes earlier when the ECB left the main refinancing rate at a record low of 0.15 percent and the deposit rate at minus 0.1 percent. The rate decisions were predicted by all economists surveyed by Bloomberg News.
The ECB's 24-member Governing Council is trying to stop inflation falling too low in an economy still struggling to recover from a debt crisis that threatened to blow the euro apart. Inflation in the bloc held at 0.5 percent in June, compared with the ECB's goal of just under 2 percent. The rate has been below 1 percent every month since October.
"We are strongly determined to safeguard the firm anchoring of inflation expectations over the medium term," Draghi said. "The Governing Council is unanimous in its commitment to also using unconventional instruments within its mandate, should it become necessary."
Before it's here, it's on the Bloomberg Terminal.
LEARN MORE