Cellcom's Rally Turns to Rout as Phone Price Woes Return
Gabrielle Coppola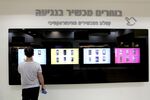 Last year's record rally in Israel's largest mobile phone provider is turning into a selloff amid concern the worst of its price war with upstart competitors isn't over.
Cellcom Israel Ltd. trades at $11.86, the lowest since February, after posting the biggest weekly loss in 10 months in the five days ended June 27. The U.S. shares are down 15 percent this year, eroding a 68 percent gain in 2013.
The shares fell 0.7 percent at 10:15 a.m. in New York as the Israel Ministry of Communications issued a call for fourth generation cellular services. The tender "increases the incentive" for competitors to keep prices low to capture more market share, Ilanit Sherf, an analyst of Psagot Investment House Ltd., said by phone.
Israel has forced telecommunication providers to cut fees and opened up the market in an effort to reduce costs for consumers, weakening profits for the largest wireless operators. While Cellcom is trying to adapt to lower prices by trimming expenses and entering new business areas including online TV services, concern is mounting that competition from new entrants such as Golan Telecom Ltd. and Hot Telecommunication System Ltd. is intensifying.
"The longer prices continue to fall, the more nervous the market gets," Daniel Goldstein, the global head of sales at IBI-Israel Brokerage and Investments Ltd., said by phone from Tel Aviv yesterday. "It's becoming more obvious that the future, while potentially being bright, is not clear yet."
Israel's push to increase competition in the mobile phone industry has more than halved Cellcom's U.S. share price since 2010, while Partner Communications Co., the country's second-largest mobile provider, has dropped 62 percent in the period.
Declining Revenue
Shares of Cellcom rallied last year as investors speculated pricing pressures would ease in 2014 and as the company succeeded in reducing costs and bolstering cash flow, helping to offset revenue declines.
Cellcom declined in an e-mailed statement to comment on market speculation.
The Netanya, Israel-based operator's first-quarter net income rose 70 percent to 114 million shekels ($33.3 million) as expenses were cut 15 percent.
Still, revenue at Cellcom has fallen every quarter since December 2011, and promotions from rivals like Golan Telecom have triggered concern the declines will continue, said Roni Biron, a UBS AG analyst based in Herzliya, Israel.
"Overall, we are getting closer to the bottom, which will probably be sometime in the second half of 2014," Biron, who has a neutral rating on Cellcom shares, said in a telephone interview yesterday. "Investors are waiting to see some price stabilization before turning more constructive on the mobile sector."
Hot, Golan
Mobile network operators Hot and Golan moved into Israel's wireless market in May 2012 and together with virtual network operators controlled more than 10 percent of the cellular market at the end of last year, according to the Ministry of Communications.
Cellcom said June 17 it will offer an online television service, known as Over the Top TV, to compete with satellite and cable companies and help retain customers.
The Israeli government has encouraged carriers to enter the TV market as it wants companies to form telecom groups that can compete with each other across products in order to decrease prices.
Savings from network sharing agreements will help profitability at Cellcom while new markets will bolster growth and ease competitive pressures, said Liat Glazer, an analyst at Petach Tikva-based Excellence Nessuah Brokerage.
Market Stability
"Once competition shifts to other segments, we will see stability in the cellular segment," Glazer, who thinks Cellcom shares are attractive at current prices, said by phone June 24. "The television segment could be a game changer."
Analysts are split on the outlook for Cellcom: five recommend holding the shares, three have a buy rating, and two says sell, according to data compiled by Bloomberg.
"The government is obviously intent on bringing down the cost of living, and they're going to do that by ensuring there's greater competition in that sector," William Scholes, who helps manage $180 billion in equities at Aberdeen Asset Management Plc, said by phone from London on June 30. "The market is extremely tough, and it's hard to say who's going to be the net winner."
Before it's here, it's on the Bloomberg Terminal.
LEARN MORE