Is Climate a Material Risk? Here's What Companies Are Really Reporting
by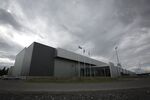 How many companies think climate change will have a material impact on their business? Not too many, apparently. Roughly half of the 3,000 biggest publicly traded companies in the U.S. say mum's the word, reporting zilch in their annual filings to U.S. regulators.

A new online tool makes it easy to find which companies are disclosing climate-change risks -- both the direct impacts to the environment and indirect risks from tougher curbs on pollution. The tool, created by investment-advisory group Ceres and CookESG Research, scours SEC filings of the biggest American companies, included in the Russell 3000 index.
"This tool is an important step in making it easier for investors to analyze corporate data that's available and what's still missing," said Mindy Lubber, president of Ceres, a nonprofit advocacy group that focuses on corporate sustainability.
The operative words here being "still missing."
Companies are facing increasing pressure from investors to report on their exposure to climate change, but few standards describe where and when it's required. Some companies, like Google Inc. and Apple Inc. issue extensive voluntary reports about carbon footprints and renewable energy, but such terms don't show up on a search of their annual 10-K reports that are required by U.S. securities law.
The SEC issued guidance in 2010 that said companies must release information about material risks from climate change and related regulations in their annual filings. It was more a reminder than a new standard, though, as companies were always required to disclose material risks. The guidance wasn't a game changer: While the number of companies mentioning climate risks in their 10-Ks have increased, according to Ceres, the disclosures have actually become less specific in recent years.
Perhaps the biggest impediment to disclosure is determining which risks and opportunities are "material." Groups like the Sustainability Accounting Standards Board are working to develop industry-specific disclosure standards to be integrated in SEC filings. SASB this year named as chairman Michael Bloomberg, former New York Mayor and founder of Bloomberg LP.
Electrical power companies provide more information about climate change than most other industries, according to Ceres. EMC Corp, the world's biggest maker of storage computers, also stands out for the level of detail in its disclosures, including the scientific basis for its plan to reduce emissions by 80 percent and an admission that the company recently missed an internal target:
"While we missed our goal of a 40% reduction in energy consumed per employee from 2005 to 2012," EMC's filing says, "we are pleased to have achieved a 35 percent per employee reduction given the expansion of our product portfolio."
The company may have been 5 percentage points shy of its target, but its disclosure speaks volumes about how the company is approaching the material challenge of climate change.

More from Tom Randall:
Before it's here, it's on the Bloomberg Terminal.
LEARN MORE