Cameron EU Stance on Juncker a 'Catastrophe,' Balls Says
Svenja O'Donnell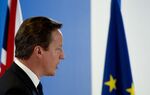 U.K. Prime Minister David Cameron's failed bid to block Jean-Claude Juncker's appointment as European Commission president is a "catastrophe for the national interest," Shadow Chancellor Ed Balls said.
The opposition Labour Party lawmaker's comments reflect the reverberations that continue to be felt in Britain of Friday's European Union summit, when leaders overrode Cameron's objections and nominated the former Luxembourg premier for the EU's top job. Cameron, who received the backing of Hungary only among the EU's 28 member states, is due to address Parliament today on the summit.
"I'm really worried about where we are," Balls told BBC Television's "Andrew Marr Show" yesterday. "We won't be influential in the world unless we are influential in Europe."
Cameron, who has promised a referendum on remaining in the EU by the end of 2017 if he is re-elected, opposed Juncker as being too committed to European integration and not enough to European reform. He also lobbied for EU leaders and not the European Parliament to pick the commission president.
"I strongly believed that an important principle was at stake, and that it was important to stand up for it -– even if it meant being isolated," Cameron said in an op-ed in today's Daily Telegraph newspaper. "I am ready to move on and keep fighting for Britain's interests in Europe."
Job Harder
Cameron told reporters on June 27, after the vote, that "the job has got harder of keeping Britain in a reformed European Union," though "it's still doable and I'm still committed to doing it."
A Survation poll commissioned by the Mail on Sunday showed 47 percent of Britons want to exit the EU, with 39 percent in favor of staying in the bloc.
Foreign Secretary William Hague defended Cameron's stance and said Britain could still deliver the reforms it wants, which include changes to the rules on the movement of people within the region and their rights to claim benefits.
"When it's an argument about principle you've got to stick to that principle," Hague told the Marr show yesterday. "It would be far too early to say it doesn't look like we're going to get those reforms."
John Cridland, head of the Confederation of British Industry, told the Observer newspaper the U.K.'s economic success depends on EU membership.
'Future Failures'
"British businesses are worried that events this week are a foretaste of future failures for David Cameron," Labour foreign affairs spokesman Douglas Alexander said in an e-mailed statement.
While Balls said Labour agreed Juncker wasn't the right candidate for the job, he said it was a mistake for Cameron to attempt to "blackmail" his European peers and criticized him for failing to present a strategy for Britain in Europe.
Balls reiterated that Labour's plans don't necessarily include an in-out referendum.
"Any transfer of powers from Britain to Brussels, we'd have an in-out referendum," he said. "Setting an arbitrary timetable now for a referendum in two years' time is deeply destabilizing, bad for business, bad for jobs, bad for investment, bad for Britain."
The Survation poll showed that should Cameron succeed in winning some powers back for Britain, 41 percent of voters would favor staying in the EU, with 37 percent still supporting an exit. It also showed Labour retains a 9-point lead with 36 percent of support. Survation polled 1,000 people on June 27 and June 28.
Cameron spoke to Juncker yesterday to congratulate him on his appointment and they discussed how to make the EU more competitive and flexible.
Cameron "welcomed Mr. Juncker's commitment of finding a fair deal for Britain and Mr. Juncker said that he was fully committed to finding solutions for the political concerns of the U.K.," Downing Street said in a statement.
Before it's here, it's on the Bloomberg Terminal.
LEARN MORE