Aereo Stops Operations, Sends Refunds, But Says It's Just a Pause
By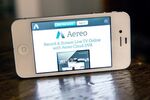 Aereo is shutting down its operations days after the Supreme Court said its streaming television business was illegal, but the company insisted that this was not the end of the line.
"We have decided to pause our operations temporarily as we consult with the court and map out our next steps," said Aereo chief executive Chet Kanojia in a statement. The company's service was taken down at 11:30 Saturday morning, and Aereo is sending refunds to subscribers for the last month.
This isn't a surprise. Aereo was based on an idea that the Supreme Court has said is fundamentally illegal, and the company had said that it had no Plan B if the justices ruled against it. But in the hours after the decision, Kanojia said the company's work wasn't done.
Aereo is continuing to litigate in the court of public opinion. It directed subscribers to a website it has set up called ProtectMyAntenna.org, which lays out the case it made to the Supreme Court. Kanojia said in his statement:
The spectrum that the broadcasters use to transmit over the air programming belongs to the American public and we believe you should have a right to access that live programming whether your antenna sits on the roof of your home, on top of your television or in the cloud.
Beyond that, it's still unclear what Aereo's strategy is. The court seemed to leave the door open for Aereo's technology so long as it was willing to get permission from broadcasters. This would mean paying fees to retransmit their signals, just as cable and satellite television companies do, and Aereo's business model is built around avoiding those fees. The company has been quiet for the last few days, giving no details about a potential pivot. The short statement on Saturday offered no more information.
While Aereo's fate remains uncertain, there are still questions about how much of an impact the decision will have on the wider television industry. On Wednesday, 20th Century Fox sent a letter to a federal court saying that the Supreme Court's action proved that cloud DVR capabilities offered by Dish TV are also illegal. That case will be argued on July 7.
Before it's here, it's on the Bloomberg Terminal.
LEARN MORE