What to Do With All That Cachaça You Got for the World Cup
by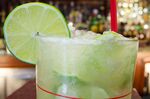 By now, you've probably taken a few hits betting on the wrong team. You're pretending you understand why the U.S. advanced even though they lost to Germany. And if you've been attending theme parties or World Cup happy hours, you've had more sugary cachaça Caipirinhas than you can stand.
Buck up, temporary soccer fans. Not everything tastes like a carton of sugar exploded in a lime orchard. There are other ways to lift your spirits with Brazil's honey-colored liquor before July's big final. To find them, Loot consulted the experts.
"You can use cachaça to make any drink where you'd normally use rum," says Elthon Figueiredo, the sprightly Brazilian bartender at New York's World Cup-watching staple, Churrascaria Plataforma. He highly recommends the "Brazilian Wax."
Brazilian Wax
1/2 cup cachaça

1/4 cup triple sec

1/4 cup pineapple juice

Splash of soda water

6 to 7 ice cubes

Garnish with lime

If you ignore the name, this $13 cocktail is a light, refreshing version of a piña colada, without the coconut. But, more importantly, it masks the taste of straight cachaça. (Think grassy, with the power of grappa.)
Strawberry Batida
3 ounces cachaça

1/2 cup strawberry puree

2 tablespoons sweetened condensed milk

1 teaspoon lemon juice

Blend and serve over ice
The 'batida,' Brazil's second most-popular cachaça cocktail, is similar to a typical daiquiri. If, however, the mere mention of the word daiquiri gives you bad flashbacks of Spring Break Fort Lauderdale, consider this Sangria twist from Bachannal's new hot-shot bartender Naren Young.
Sangria Blanco
4 teaspoons cachaça

4 teaspoons Pisco

4 teaspoons St Germain liqueur

1/4 cup semisweet white wine (Riesling)

1/8 teaspoon lime juice

1/4 cup soda water

3 thin slices kiwi

3 thin slices apple

3 thin slices cucumber

2 fresh sage leaves

1 sprig fresh thyme

6 to 8 ice cubes

At first glance, Young's summer sangria is labor intensive – but it's well worth the effort. Bust out your 'mixologist' cocktail kit, pour the liquors and lime juice over ice, top with soda water, and stir in the rest of the fresh foliage.
Caipirinha de Uva
1/4 cup cachaça

4 lime wedges

7 green grapes

2 teaspoons raw sugar

3 tablespoons semisweet white wine such as Gewürztraminer

8 to 10 ice cubes

Think of this as the more sophisticated, richer sister to the caipirinha (traditionally made with only cachaça, lime, sugar and ice). In a cocktail shaker, stir together lime wedges, five grapes, and sugar. Add cachaça, wine, and ice, and shake vigorously. Pour it into an old-fashioned glass, and thread the remaining grapes onto a skewer to garnish.
Go Native
These cocktails don't require an expensive cachaça base. And Brazilians will be the first to tell you it's considered a poor man's rum.
"You're a brave woman," remarked the bartender at Fogo de Chao, when I ordered a glass of Pitu cachaça neat.
Even higher-grade courage still comes cheap. For example, Figueiredo's favorite brand, Seleta has spent years aging in a barrel, and yet only costs about $15 per bottle. And Young's "soft spot" Leblon, sells at $20 per bottle. That's reason enough to get your muddlers out - just make sure it's authentic.
"True cachaça comes from Minas Gerais [bordering Rio and São Paulo]," explains Figueiredo. "They're great at making cheese, cachaça, and beautiful women."
Before it's here, it's on the Bloomberg Terminal.
LEARN MORE