Owned by the Chinese, Volvo Swears It's More Swedish Than Ever
Volvo looks to its Swedish roots to move the brand forward
by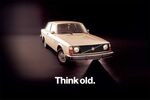 Volvo's latest television ad is less about horsepower and gas mileage than it is about nostalgia. A woman behind the wheel of an SUV recalls when she was a little girl, sitting in the rear-facing seat of her parents' boxy Volvo wagon. "I loved every minute of it," the voice-over says. "Then you grow up, and there's no going back. But it's OK. It's just a new kind of adventure. And really, who wants to look backwards, when you can look forward."
Looking backwards may be just what Volvo needs to do to reverse more than a decade of declining sales in the U.S., its largest market. Through the 1990s, millions of Americans chose its quirky, square station wagons and sedans over sleeker luxury cars, attracted by Volvo's safety features and uncluttered, Swedish design. Then, from 1999 to 2010 when Ford owned the brand, Volvo lost some of the Scandinavian practicality that set it apart from other luxury and near-luxury cars. Sales in the U.S. fell 55 percent, to 61,233, from 2003 to 2013.
"We've done a relatively poor job trying to blend in," says Alain Visser, senior vice president for marketing, sales, and customer service at Volvo. "And now we're saying, 'We don't want to blend in. We are different.' "

Chinese carmaker Zhejiang Geely, which bought the company from Ford in 2010, is investing $11 billion to put some Swedish sensibility back into Volvo. The money will pay for three new factories in China (two have already opened), a U.S. marketing campaign, and an SUV designed with North America in mind. "We have neglected the U.S. market for a period of 10 years. Now we are really saying, 'That's enough,' " Visser says.
The new XC90 sport utility vehicle (the model was first sold in 2002) will be unveiled in August and is the first automobile in 15 years made entirely by Volvo—all the parts will come from the company's factories in Sweden, Belgium, and China. Lex Kerssemakers, Volvo's senior vice president for product strategy, says the car will connect with consumers the way Volvo's station wagons did in the 1980s.
Volvo, which made its first car in 1927, pioneered safety by inventing the shoulder-strap seat belt, the rear-facing child seat, and curtain-style air bags. The brand steadily gained a loyal U.S. following. Its popularity culminated with its best-selling car ever, the model 200, which it made until 1993. By the time Ford bought the company in 1999, Volvo was starting to replace its square frames with rounder edges that made its cars look a lot like others. Ford swapped in some of its own parts to save money, notably its engines, and didn't invest in developing new models. "It never turns out well when the big car companies buy those weird little guys," says Edmunds.com Senior Editor Bill Visnic. "That uniqueness, the very thing that made the brand what it was, gets squeezed right out."
In 2010, China's Geely acquired Volvo and got instant presence in the U.S. market as well as decades' worth of engineering and manufacturing expertise to use in its own cars. The new owner focused on increasing Volvo sales in China, doubling them to 61,146 by last year.

Volvo developed a hybrid engine. It also hired London-based marketing firm to produce the U.S. campaign through two of its subsidiaries: Grey is creating the ads, and media firm Mindshare is working on ad placement. Volvo won't disclose how much of Geely's $11 billion will go to advertising, but Visser says the marketing budget is 40 percent bigger than it was last year.
Efforts to revive the brand come as luxury car sales in the U.S. rose 11 percent from the first five months of 2013. "The battle with BMW and Mercedes and Audi is vicious, and the landscape is so tough for a small player like Volvo that doesn't have a big voice," says Michelle Krebs, a senior analyst with AutoTrader.com. Volvo says it has several new models in development. It aims to sell 800,000 vehicles in 2020—200,000 in China, 120,000 in the U.S., and the rest in Sweden and Europe. The goal is almost double the number of cars sold in 2013. "I'm not saying they can't get there, but it will be a challenge," Krebs says.
Volvo's Visser says its rivals have left an opening because they focus too much on horsepower and leather seats and too little on how customers drive, load their kids into the car, and use technology. "We believe we can be a clever alternative, and people want an alternative," he says. The more customer-centric approach is inherently Swedish, he says, and the new SUV will reflect that. Instead of dozens of buttons, it will have only eight spread between the steering wheel and the center of the dashboard, where a large flat-screen display sits. The new hybrid engine will provide a lot of acceleration yet use relatively little gas while cruising. The car will even have what Volvo calls "Swedish air," a system that closes external ducts when it detects outside pollution.
In May, the average U.S. price for a Volvo was $41,000, much less expensive than a BMW ($52,757) or a Mercedes ($61,000). "I'm not sure they're attracting the entry-luxury buyer," says Kevin Tynan, senior auto analyst with Bloomberg Industries. "It's sort of that safety, technology buyer."
Going forward, nostalgia could be a tough sell. People may have fond memories of their old family cars, but that doesn't mean they want to drive them. The new Volvo will need to offer perfection, Edmunds.com's Visnic says. "The margin for error is tiny. Sometimes brands just kind of get wrung out and exhausted."
Before it's here, it's on the Bloomberg Terminal.
LEARN MORE