Rising Oil Prices Loom Over World Economic Recovery
Economists watch nervously as Brent crude keeps climbing
By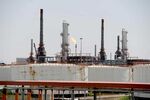 The global economy faces a new threat from an old enemy: oil. A spike in the price of crude foreshadowed economic slumps in each of the last four decades. So economists are worrying because the price of Brent crude, considered the benchmark for the industry, recently reached its highest point in nine months—above $115 a barrel. The jump in price came amid fresh violence in Iraq, the Organization of the Petroleum Exporting Countries' second-biggest producer after Saudi Arabia. Brent started the year about $6 cheaper.
The rule of thumb favored by many economists is that every $10 increase in the price of a barrel of oil ends up reducing global growth by about two-tenths of a percentage point. That's not an inconsequential amount for an already lackluster expansion. The World Bank on June 10 cut its outlook for 2014 global growth to 2.8 percent from 3.2 percent in January. "There is no doubt that, beyond a certain point, higher prices become a major constraint on global economic activity, particularly if the price reflects supply problems, rather than buoyant demand," says Julian Jessop, chief global economist at Capital Economics in London. Energy importers such as China and Japan would suffer the most from any jump in price, though exporters in the Middle East would benefit, according to Neil MacKinnon, a global macro strategist at VTB Capital in London. Oil now has the probability of all-out civil war in Iraq baked into its price, as well as the prospect of more violence in Ukraine. Those two risks add $10 to $15 to the price of a barrel of crude.

Things could still turn around if the Iraq crisis dissipates. And OPEC says it's confident it can pump enough extra oil to make up for a shortfall in Iraqi production. The world is also more energy-efficient than it once was, and the U.S. has larger domestic supplies, which can put a cap on price rises.
Even at $100 a barrel, though, oil can act as a drag on global growth. Worldwide economic activity was already weakening in the early precrisis days of 2008, when oil breached $100 a barrel. Oil then slumped with the crash but rebounded to $100 in 2011, hampering the recovery. Capital Economics suggests there is a 20 percent risk of the fighting in Iraq pushing oil up to $120, which it says is the danger point: That price is associated with previous global economic slowdowns. "What's more," says Jessop, "a strong and sustained recovery seems unlikely as long as oil is above $100."