Piggybacking on Billionaire Singer Boosts Debt: Argentina Credit
Katia Porzecanski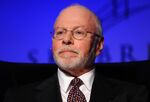 Speculators in Argentina's defaulted debt are looking to ride billionaire Paul Singer's coattails to a payday.
The price of bonds left over from the nation's $95 billion default in 2001 jumped 50 percent to about 85 cents on the dollar since June 16, when the U.S. Supreme Court left intact a ruling that requires Argentina to compensate holdout creditors led by Singer when it pays those who provided debt relief in 2005 and 2010. That compares with a 0.15 percent gain in emerging markets. The notes are now at their highest level since the default, Seaport Group LLC said.
After threatening to skirt the ruling, President Cristina Fernandez de Kirchner is now seeking a settlement, boosting speculation that investors who weren't part of Singer's lawsuit will also be rewarded as Argentina tries to stave off more claims. While most of its obligations were swapped for new bonds at losses of 70 percent for investors, Singer's Elliott Management Corp. held on to the notes and sued for repayment.
The gains reflect optimism "the same deal will be extended to all holders of untendered debt outside of the current lawsuit," Rohit Gadkar, a money manager at Trea Capital Partners SV, which holds defaulted Argentine bonds, said by telephone from Barcelona. "It makes sense for untendered holders outside the current lawsuit to start to get organized."
Stay Request
In anticipation of negotiations, Phillip Blackwood, a London-based money manager at EM Quest Capital LLP, which owns defaulted debt, says he has been informally contacted by other bond holders about possibly creating a creditors' committee.
Before a U.S. appeals court ruled in October 2012 that Argentina owed the holdouts $1.5 billion, the defaulted securities traded below 20 cents on the dollar, according to prices compiled by Exotix USA Inc., which specializes in illiquid and distressed emerging-market debt.
U.S. District Judge Thomas Griesa today denied a request made by Argentina to delay the effects of the ruling so that it can make a $900 million interest payment on restructured bonds due June 30. Those securities will be in default if a payment isn't made by the end of a 30-day grace period.
Economy Minister Axel Kicillof said at a press conference in Buenos Aires today that the nation sent money to bond trustee Bank of New York Mellon Corp. to make the June 30 payment. Under the ruling, the bank is barred from passing those funds along to bondholders.
'Good Progress'
The spread on Argentina's restructured bonds versus Treasuries widened 0.14 percentage point to 6.81 points at 1:05 p.m. in New York, data compiled by JPMorgan Chase & Co. show.
Bondholders led by Elliott's NML Capital urged Griesa not to grant a delay, according to a letter filed by the hedge fund's attorneys in federal court in Manhattan on June 24.
If the parties make "good progress," NML would have "strong motivation" to seek an agreement that lets the nation continue paying the restructured bonds, the letter said.
There are still about $6.6 billion of bonds from the default that weren't swapped in the restructurings, according to data from the economy ministry. Including unpaid interest, potential claims on the notes may total more than $16.2 billion, according to estimates by Citigroup Inc. That's more than half of Argentina's foreign reserves.
'No Point'
To persuade international bond investors to once again lend it money, Argentina must settle with all holdouts, according to EM Quest's Blackwood, who oversees $3.5 billion of emerging-market assets.
"People are treating all the defaulted debt as one because they say Argentina needs to cure this default as one," he said in a telephone interview from London. "There's no point cleaning up with some guys and not the other guys."
In a presentation yesterday to the Group of 77 nations and China at the United Nations, Kicillof said the country is willing to negotiate in good faith. In a press conference afterward, he said he hadn't met with representatives for the holdouts and wouldn't before he left New York.
Kicillof also wouldn't comment beyond the lawsuit on plans to come to a solution with holdouts, but he said that delaying the effects of the ruling would aid negotiations.
Dan Pollack, the special master charged with overseeing negotiations, said in a statement yesterday that he'd met with lawyers for Argentina and the holdouts in the previous 48 hours without reaching any resolution.
'Not Imposed'
Task Force Argentina, a Rome-based group representing about 50,000 Italian holdouts that hold claims for $2 billion in principal and interest of Argentine debt, said in a June 24 statement that it's "open to negotiations carried out in good faith, based on acceptable terms and not imposed unilaterally."
The group is currently involved in a lawsuit against Argentina at the World Bank's arbitration court. Hearings began June 16 and will last for two weeks, the group said in the statement.
Extending an offer made to Elliott to the remaining holdouts "is the only way for Argentina to put this whole saga behind them once and for all," said Trea's Gadkar.
Before it's here, it's on the Bloomberg Terminal.
LEARN MORE