Mosul Archbishop Says Iraq Christians Flee From ISIL Militants
Zaid Sabah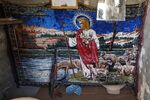 Thousands of Iraqi Christians have fled from towns near Mosul this week, amid fighting in the region between security forces and an al-Qaeda splinter group, a senior cleric from the city said.
Many of the refugees have escaped to Kurdish-controlled cities including Erbil, Emile Shimoun Nona, the Chaldean Catholic archbishop of Mosul, said in a phone interview from Iraqi Kurdistan late yesterday. He said most of the Christians in Mosul itself, who amounted to about 1,200 families, had escaped earlier after the city fell to fighters from the Islamic State in Iraq and the Levant on June 10.
The United Nations High Commissioner for Refugees said in a statement today that 10,000 Iraqis had fled from Christian regions into Kurdistan after mortar rounds landed near their town. Nona said he estimated as many as 50,000 Christians have left their homes, about 90 percent of them from the town of Hamdaniya near Mosul.
"We as a Christian people haven't experienced living under extremist Islamist groups, and we don't intend to do that, so the future for us is unknown and dark," Nona said.
The seizure of large parts of northern Iraq by ISIL, a militant Sunni Muslim group that rose to prominence fighting to oust President Bashar al-Assad in Syria, risks tipping OPEC's second-biggest oil producer into a renewed sectarian war.
Syria Exodus
For the Christian minority, it revives fears of the attacks they were subjected to after the toppling of Saddam Hussein in the U.S.-led invasion of 2003. In the following years, hundreds of thousands fled, many departed to neighboring Syria.
Nona said that the Christians who left the Mosul region were facing a "humanitarian crisis," as many had fled with "only the clothes they are wearing." He said they're receiving some aid from the Kurdish authorities and from UNICEF.
There are about 20 churches in Mosul and no masses have been performed there since ISIL's takeover, Nona said.
He said that one statue of the Virgin Mary in a church had been pulled down. That wasn't evidence of the specific targeting of Christians, because "on that day the militants staged a campaign against all the statues of the city," including famous writers and poets, he said.
Some 300,000 Iraqis have sought refuge in the Kurdish-controlled region of northern Iraq since the crisis began, the UNHCR said.
Before it's here, it's on the Bloomberg Terminal.
LEARN MORE