Can the Poor Pull Themselves Out of Poverty?
By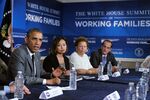 Amid all the debate over poverty's causes and cures right now, little focus has been on what the poor can do to help themselves. They're more often cast as the victims of concentrated wealth, misguided policies, and a laissez-faire capitalist system that's created more crises and fewer opportunities to succeed. As President Barack Obama noted on June 23 at the White House Summit on Working Families: "There are a whole lot of people who are working harder than ever and can't seem to get ahead." When it comes to such issues as trade and taxation, workers obviously don't hold much sway. Almost half of Americans now attribute poverty to factors other than individual initiative, according to a recent NBC News/Wall Street Journal poll. In 1995, less than a third felt that way.
Yet many Americans continue to move into higher income brackets, despite stagnant wages and job growth. They pay for cars, cell phones, and college without getting crippled by credit card debt. They're able to buy homes and save for retirement. To John Hope Bryant, an entrepreneur and founder of the nonprofit Operation HOPE, the root of that success isn't skin color or rich parents but an understanding of the language of money. In his provocative new book, How the Poor Can Save Capitalism (Berrett-Koehler Publishers), Bryant lays out the case for an "economic Marshall Plan" to give the poor "access to capital and knowledge about how to use it."
In Bryant's view, these folks rarely reap the fruits of capitalism because they rarely get to see them. Instead of meeting entrepreneurs, homeowners, and college-trained professionals, they're surrounded by payday lenders, the unemployed, and people who've never had a bank account. They see the cost of education but not the payoff and are served by a financial system that hands them high fees but few loans.
Bryant's argument may sound like a variation on the blame-the-poor platform preached in some conservative circles. It's not. Bryant, a longtime evangelist of financial literacy who grew up in South-Central Los Angeles, blames a range of factors that foster the mindset and knowledge gaps that perpetuate poverty. As an adviser to both Bush and Obama and co-founder of the Gallup-HOPE Index, Bryant has been immersed in the topic for more than 20 years. Still, he's hardly alone in promoting financial literacy: A growing number of governments, nonprofits, banks, and others are spending millions to do the same, often with mixed success. Nor does Bryant explore the economic theories behind wealth and poverty, as Thomas Piketty does in his much-discussed Capital in the Twenty-First Century.
Instead, Bryant's book is a simple yet compelling treatise that reiterates the importance of self-esteem, positive role models, and genuine opportunity. He argues for the financial importance of consumers at the bottom of the income pyramid, even comparing inner-city neighborhoods to untapped emerging markets. He suggests new products such as "dignity mortgages" that give favorable rates to potential homeowners who complete credit counseling and literacy programs. More important, he calls for a coordinated national effort to tackle the many financial hurdles now facing the poor. It's a bold plan that spans automatic bank accounts at birth and mandatory financial education from kindergarten to tax breaks and funding for those who invest in lower-income real estate, businesses, and individuals.
Do some of these initiatives already exist in various forms? Sure. Other ideas seem aspirational, at best, such as tapping former chief executives and entrepreneurs to act as "chief opportunity officers" in every federal, state, and government agency.
Still, Bryant lays out a plan that has both scale and credibility. It blames neither the poor nor the rich for the current problems, nor does it look to government or business alone for solutions. The author also practices what he preaches. He recently launched Operation HOPE's Project 5117, a four-pronged program to boost literacy, investment, entrepreneurship, and financial access through 1,000 "empowerment centers" in branch banks. It's just a start. As with the Marshall Plan, rebuilding devastated economies requires bipartisan and private-sector support. By focusing more on creating wealth than trying to curb it, Bryant might find his plan has appeal.
Before it's here, it's on the Bloomberg Terminal.
LEARN MORE