Merkel Said to Ready Summit for Full Sanctions on Russia
Arne Delfs and Brian Parkin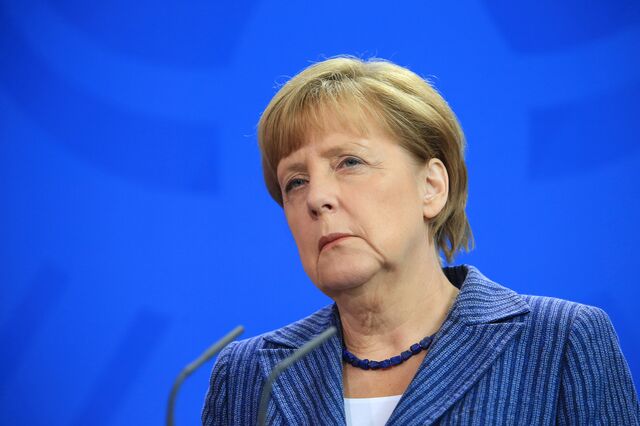 German Chancellor Angela Merkel told members of her party yesterday that Russia faces full economic sanctions unless it takes verifiable steps to calm the crisis in Ukraine by Friday, two people present at the meeting said.
Merkel, addressing senior members of her Christian Democratic Union in Berlin last night, said that implementation of so-called stage three sanctions is on the agenda for a June 26-27 meeting of European Union leaders unless there is evidence of substantial progress in eastern Ukraine, according to the people, who asked not to be named because the meeting was private. Merkel didn't say what the sanctions might entail.
Merkel spoke before Russian President Vladimir Putin asked lawmakers to rescind approval they granted to use force in Ukraine, and as pro-Russia separatists in the east of Ukraine called a cease-fire in fighting against government forces.
"This is a positive signal," Steffen Seibert, the chancellor's chief spokesman, said by phone in Berlin today, when asked about the cease-fire. "But we have to wait and see how it develops."
EU leaders will discuss the Ukraine conflict on June 27, though whether further sanctions are on the agenda is a matter for EU President Herman Van Rompuy to decide, said Seibert. The German government has repeatedly said that it's prepared to intensify sanctions should Russia fail to help de-escalate the conflict, he said.
France, U.K.
The German government has been working on full, stage-three sanctions with other EU governments ahead of this week's summit, a German government official said separately, without divulging the measures under consideration. Merkel is working with France and the U.K. to build momentum for possible measures, the official said last week.
A spokesman for the Christian Democratic Union refused to comment on the meeting between Merkel and her party when contacted by phone today. Bild newspaper reported earlier that Merkel expects tougher sanctions to be agreed upon at the summit, including measures to curb business ties with Russia and its access to financing in the West.
"The days ahead will be very decisive for what we can decide" at the summit, Merkel told reporters on June 20. "We expect Russia to respond in a positive and constructive way." While Germany wants to see a cease-fire, "there is planning" for other outcomes as well, she said.
Before it's here, it's on the Bloomberg Terminal.
LEARN MORE