Chicago's New High-Tech Lamp Posts Will Track Everything, Always
By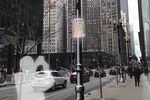 Almost 50 years after Simon and Garfunkel sang "Hello lamp post, whatcha knowin," the streetlights of Chicago will answer them. The city will start collecting data through Web-connected sensors installed on lamp poles this summer. In addition to foot traffic, the project will measure air quality, sound volume, heat, light intensity, and precipitation as a means to better understand the urban environment and ultimately make Chicago a safer, more pleasant place to live.
Dubbed the Array of Things, the initative will start with eight sets of sensors placed at various intersections along Michigan Avenue. Brenna Berman, the city's commissioner of information and technology, says she hopes to add 300 in the next few years as part of a continued effort by Mayor Rahm Emanuel to push Chicago as a tech innovation hub. The boxes of electronics will be wrapped in perforated plastic shields that students at the School of the Art Institute of Chicago designed to look more like sculpture than Big Brother black boxes.
Despite their innocuous appearance, the sensors have raised the ire of critics claiming personal privacy violations because sensors will pick up Bluetooth signals from smartphones, laptops, and tablets. Charlie Catlett, one of the project's organizers and the director of the Urban Center for Computation and Data, contends that precautions have been taken to protect the cellphone data used to count pedestrians; researchers will drop the modem addresses that signals come from. The anonymous data will be made available through the city's public portal for anyone to view and use.
Transparency combined with accountability (anyone will be able to scrutinize the data-scooping code), Catlett says, should reassure skeptics. The mayor's office is now reviewing policies that will determine oversight of the project by government officials and community members.
The Chicago Tribune reports that Catlett has secured more than $1 million in in-kind contributions from corporations that include Cisco, Intel, Motorola Solutions, and Qualcomm in the form of engineering help. The city's investment is  small: From $200 to $400 in electricians' wages to install each box, which will  cost $15 annually to power. Catlett says that the project's value to researchers in the academic and private sectors could be far greater. He imagines that the data could be used to draw connections, for instance, between the incidence of cardiovascular disease and the human-made surroundings.
For Chicagoans, the data could lead to improved services. By collecting information about how sound volume varies around the city, for example, traffic patterns could be modified to reduce noise pollution where it peaks. Or imagine you park your car eight blocks away from where you're going: You could open an app to chart a walk through the most populated streets. The way things are going, it probably won't be long before you can literally ask the nearest lamp post.