A $45 Million Viola? The World's Newest Most-Expensive Instrument
By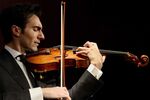 John Cage would be pleased: If you listen very carefully, you may hear a world record shatter. In sealed bidding expected to end this week, auctioneers Sotheby's and Ingles & Hayday have been taking offers for the "Macdonald" viola by Antonio Stradivari, the king of strings. They've estimated it to sell for more than $45 million—about three times the auction record for an instrument, currently held by a Stradivarius violin that sold for about $15.6 million in 2011.
Is that multiple a sign that a booming instrument market is reaching frothy levels along with prices for contemporary art? Not exactly. In fact, earlier this month a Stradivari violin valued at as much as $10 million went unsold at Christie's after it was found in the Manhattan home of a reclusive American heiress.

As for the "Macdonald" instrument, this 1719 Strad commands its premium because it's a viola, the slightly larger and deeper-toned sister of the violin. While hundreds of known Stradivari violins are in circulation, only 10 of his violas are known to have survived, according to Sotheby's research. Of those, only two are in private hands: one in the Library of Congress in Washington and the one that is up for sale.
A viola, in turn, is important for an additional reason. You can't have a standard string quartet—two violins, cello, and viola—without one. Imagine building an all-Strad quartet, the ultimate dream combo. Picking up the violins and cello are doable. "Anyone can own a Strad violin. You can even own two," says Benjamin Hebbert, a London stringed-instrument dealer and consultant. "Owning a string quartet is another thing."

The "Macdonald" viola might be your only shot at getting the full set. Ever. "It's no different from collecting baseball cards," Hebbert says. Sky's the limit on that last, missing piece of the set.
Few have managed to collect all four. One set, the Paganini Quartet, was owned by legendary violinist Niccolo Paganini in the 19thcentury. It's now owned by the Nippon Music Foundation, which has loaned the set to the Tokyo String Quartet and the Hagen Quartet. It's one of only six Strad quartets known to exist, according to the Japanese foundation.
Potential buyers for the "Macdonald" viola could range from a foundation or orchestra to a private collector who would become patron to a very lucky violist. Bids close on June 25, according to Bloomberg News. When or whether the world learns the new owner, or if the viola lands in a quartet, will remain to be heard.
Before it's here, it's on the Bloomberg Terminal.
LEARN MORE