Monet's Water Lilies Lead Sotheby's $208 Million Auction
Katya Kazakina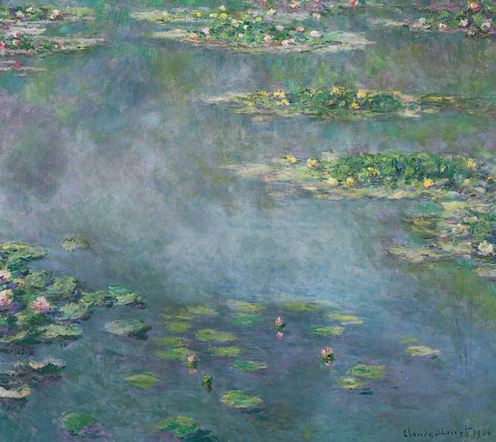 An iconic painting of water lilies by Claude Monet helped Sotheby's sell 122 million pounds ($208 million) of Impressionist and modern art in London.
Yesterday evening's tally represented a 15 percent increase from a year ago and was Sotheby's third highest result for the category in London. Of the 46 lots offered only four failed to find buyers as Russian, Asian and American collectors competed for works by Pablo Picasso and Wassily Kandinsky. The sale also benefited from the presence of several estates, including that of Jan Krugier, a prominent art dealer who died in 2008.
Monet's 1906 "Nympheas" fetched 31.7 million pounds ($54 million), becoming the top lot of the sale. Inspired by the lily pond in his garden at Giverny in France, the work was also the second-highest price for a Monet at auction. It was estimated at 20 million to 30 million pounds. The prices include buyer's premium; the estimates don't.
The painting resulted in a protracted bidding war between telephone clients of Kevin Ching, Sotheby's chief executive officer in Asia, and David Norman, chairman of the company's Impressionist and modern art department. Norman's client won.
The result represented a turnaround for the painting, which failed to sell four years ago at Christie's when it was estimated at 30 million pounds to 40 million pounds.
Sotheby's more conservative estimate and an increased global demand for trophy pieces by Impressionist artists boosted today's auction.
New Group
"We are seeing a whole new group of buyers," Philip Hook, Sotheby's senior international specialist, Europe, said after the sale. "There are Russian, Asian and South American collectors who weren't in the market four years ago."
The auction record for a Monet painting is $80.4 million, set in June 2008 at Christie's, according to Artnet Worldwide Corp.'s price database.
Russian bidders were active in the sale, chasing works by Marc Chagall and Alexej Von Jawlensky. A client of Russian-born Alina Davey of Sotheby's private sales group fought off a client of Sotheby's Asia Chairman Patti Wong to win Tamara De Lempicka's fleshy nude "Suzanne au Bain" for 2.4 million pounds.
"We always need more work," said Bill Acquavella of New York-based Acquavella Galleries, whose clients include billionaires Steve Cohen and Steve Wynn. The gallery bought Picasso's "L'Atelier" for 3.6 million pounds, whose price surpassed the high presale estimate.
Male Figures
Early in the sale, Krugier's 1942 painting by Picasso, "Nus masculins (Les trois ages de l'homme)," sold for 1.6 million pounds, above the high estimate of 700,000 pounds. The buyer was David Breuer-Weil, a collector and artist.
"I've always liked the symbolism of this work," said Breuer-Weil, referring to the three nude male figures representing youth, adulthood and old age.
Piet Mondrian's "Composition with Red, Blue and Grey" which sold for 15.2 pounds, was the second-highest price at today's auction.
The painting remained in the artist's personal collection until his death in 1944, according to Sotheby's. It was acquired by the father of the present owner in 1959 from the dealer and collector Ernst Beyeler and came to auction for the first time.
The painting has since been included in some of the biggest retrospective exhibitions of Mondrian's work, including the 1971 show at the Guggenheim Museum in New York, and the "Mondrian/De Stijl" show at the Centre Pompidou in Paris in 2010 and 2011.
Norman won the Mondrian for his telephone client, outbidding New York art dealer Dominique Levy.
Four works from the collection of Ralph C. Wilson, Jr., the longtime owner of the Buffalo Bills football team who died in March, brought a total of 20.9 million pounds, surpassing the high target of 18.9 million pounds. Monet's sundrenched 1875 view of the Seine river, "La Seine a Argenteuil," fetched 8.5 million pounds, the third priciest lot of the auction.
Before it's here, it's on the Bloomberg Terminal.
LEARN MORE